Overview
Tell us about your transfer goal!
Announcements
Regardless of the date the admission application has been Submitted, all applicants must update the CSU and UC application in January following the guidelines provided by these campuses.
Note: Please see the Workshop Resources at the bottom of this page for guidance to complete and update the applications.
The EOP application deadlines varies for fall 2022. You may click here for a list of CSUs accepting EOP application, and the deadlines.

The deadline to file Associate Degree for Transfer (ADT) petition is February 14th for Spring 2022.

The Transfer Center will offer virtual workshops in Spring 2022 to assist students with their application updates, supplemental applications, and more. The workshop schedule will be available in early January.
Transfer Center virtual Hours:
M-Th: 9:00 a.m - 4:30 p.m.

Fri: 9:00 a.m. - 12:00 p.m.
We will be available to assist you via email, phone and/or zoom. We will have some in-person counseling services and will provide the schedule in early spring 2022 term. If you have any Transfer related questions or would like to schedule an appointment with the Transfer Center, please contact us at:
Soraya Sohrabi - sohrabi@smccd.edu
Gloria Darafshi -Darafshi@smccd.edu
You may also schedule a counseling appointment by logging into smccd.onelogin.com and selecting "Student Success Link".
Welcome! Cañada College Transfer Center is to assist you with your transition to university life by providing services and information.
Students interested in transferring to a four-year college or university may use Transfer Services to research universities, majors, academic requirements, college costs, and other transfer matters. Resources include college catalogs, college directories, articulation information, and access to ASSIST.org, a self-guided site that provides general education, major and course equivalency information.
At Cañada College, you may obtain an associate degree/Associate Degree for Transfer and complete lower division and major preparation courses toward your transfer goal.
From here you can go anywhere!
Plan early!! Select your major, explore your options to find the university of your choice, plan your coursework, and your finances.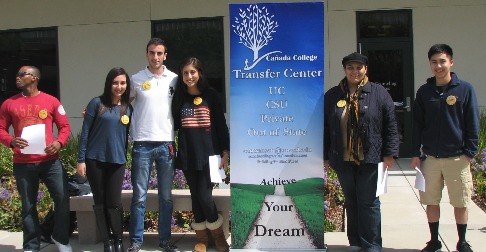 Transfer Services
---
Resources
The following transfer fliers and online resources include information that may assist you with the transfer process:
Workshop Resources
Please click on "Sign-up to access workshops" to view the following transfer resources:
Associate Degree for Transfer (ADT)/Impaction
Common Application
CSU Admission Application

- (PowerPoint)
CSU Application Guide - Videos
CSU Admission Application - Creating an Account, profile and select a program

(Video by San Diego State University)
CSU Admission Application - Personal Information Quadrant

(Video by San Diego State University)
CSU Admission Application - Entering Academic History part 1

- adding high school and Colleges attended (Video by San Diego State University)
CSU Admission Application - Entering Academic History part 2

- entering college courses (Video by San Diego State University)
CSU Admission Application - Entering Academic History part 3

- entering standardized test and Military credits (Video by San Diego State University)
CSU Admission Application - Supporting information, Program Materials, and submitting the application

(Video by San Diego State University)
CSU Admission Application - EOP Application

(Video by CAL Poly SLO)
Financial Aid Information for transfer students
Financial Aid - Interpreting Award Letters
Financial Aid - Interpreting Award Letters (Recording)
"Next Steps" after Submitting an Application
Transfer Process
UC Admission Application
How to Complete UC Application - YouTube Videos
UC Personal Insight Questions (PIQ)

UC Transfer Planner (TAP) to UC Transfer Admission Guarantee (TAG) - This will review the TAG requirements and guide you to complete TAP/TAG Application

UC - Transfer Academic Update (TAU) - 5 minute Video