Overview

Cañada College Transfer Center is here to assist you with your transition to university life by providing programs, and services.

At the Transfer Center, our goal is to support you to reach your transfer goal, and will assist you with selecting universities of your choice, exploring your major, learning about the academic requirements, admission policies, college costs and expenses, housing, scholarships, and other transfer matters through drop-in support, and counseling sessions.
Announcements
CSU Spring 2024 and Fall 2024 Applications Are Now Open!
CSU Admission Application
Spring 2024: Opened August 1, 2023 / Closes August 31, 2023
Fall 2024: Opens October 1, 2023 / Closes November 30, 2023
UC Admission Application
Fall 2024: Opened August 1, 2023 / Closes November 30, 2023
From here you can go anywhere!
Plan early!! Select your major, explore your options to find the university of your choice, plan your coursework, and your finances.
Transfer Options Applying to Universities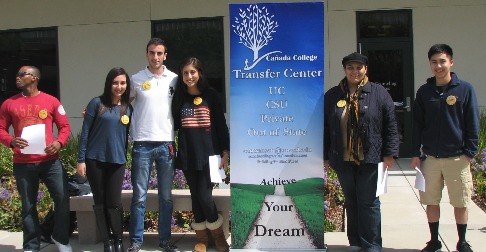 Transfer Program and Services
Transfer Center Events
Save the Date!
October 17th from 11:00 a.m. to 1:30 p.m. in The Grove - a list of colleges and universities will be available in early September
Transfer Center Workshops and Drop-in Sessions
Fall 2023 Information TBA
These workshops and drop-in sessions are to inform you of transfer matters and to assist you developing an effective transfer plan, as well as answering your questions as you are preparing to transfer.
Making Connection with Universities
Fall 2023 Information TBA
You may schedule to meet with a university representative, or an admission adviser, use the virtual services, and/or schedule to meet with them in-person.
Please check this site periodically for up-to-date information.
Events and Presentations Provided by Universities
Fall 2023 Information TBA
Every semester, universities offer events in support of transfer students to connect them with programs and services at the universities, support them with their transition to a university, and answer any questions students may have.
Resources
The following are resources provided by the Transfer Center that may include: transfer flyers and resources with the information that assists you with the transfer process: