Student Body Card
*Cañada College has transitioned all instruction and student services to online delivery. We will be responding to email messages and providing support as possible during this time. Thank you.
Get Your Virtual Cañada College Student Body Card!
Make the most of your Cañada College experience by paying your $15.00 Student Body Fee and receive your official Cañada College School ID.
Our machine is inaccessible at this time while the campus is physically closed. We are able to issue an electronic student body card though.
To obtain a Student Body Card follow the instructions shown in this TikTok Video HERE or here:
or you may also follow these instructions:
Login to Websmart--> Student services-->Student records--> Account Summary by term--> Fall 2020

Print to pdf/screen shot that entire page for me please and send it to our email (canadacollegeascc@gmail.com)

Also please send us a picture of you you'd like to use for your card along with a picture of any other photo ID you might have so that I know I am making a photo ID of the correct person?
As soon as we get these things via email, we'll do everything we can to issue you an electronic card! Thank you.
Student Body Card FAQs (Frequently Asked Questions)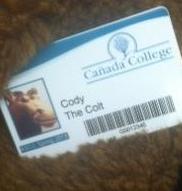 How do I get a Student Body Card?
Contact the Center for Student Life and Leadership Development via email at canadacollegeascc@gmail.com
Attach proof that you have a zero balance from Websmart (Instructions listed above)
Attach a picture of yourself. (Example)
The Center for Student Life and Leadership Development will issue Student Body Cards as soon as possible
What is the benefit of having the Student Body Card?
Over 600+ Student Discounts World-Wide!
Free entrance into all ASCC Campus-Wide Events
Free printing, scanning, and faxing in The Center for Student Life and Leadership Development*

150 free pages in black and white per semester
Copyright materials (textbooks, workbooks) WILL NOT be copied

Free entrance into Cañada sporting events*
Free usage of the Student Life Game Room*
What are the hours to get a Student Body Card?
Visit our Hours Site HERE
How long do school body cards last?
School IDs expire at the end of each semester.
After you receive your Student Body Card, a sticker will be added each semester you wish to validate it.
Where can I get a Student Body Card?
The Center for Student Life and Leadership Development, Building 5, Room 354
What Happens if my card is lost of stolen?
If your card is lost or stolen, you can go to the Cashier's Office and let the staff know. They will charge your account $ 15, and you can come to Building 5, Room 354 for another card.
What if I am in RadTech or I'm in the Medical Assistant Program?
The RadTech Program and Medical Assistant Program does not pay for your special Hospital Identification Card. Upon arrival to the Center for Student Life and Leadership Development, please let the Student Life staff know the program you are enrolled in. A Student Body Card sticker will be added to the back of your special badge.
What if I don't want a Student Body Card?
You can request to waive the right to your Student Body Card using the Student Body Reimbursement Form. You will see the refund/credit hit your account three weeks after the semester begins. For additional information and a description of fees listed, please visit Student Fees.
Student Discounts
Students and teachers save over 60%.Get 30+ Adobe Creative Cloud apps for an exclusive price. Then design anything you can imagine — including an outfit for Tierra Whack's upcoming tour.

Discounts on Macs and iPads for college students and their parents, as well as faculty, staff and homeschool teachers of all grade levels.

$29.95 admission

CollegeBuys (via the Foundation for California Community Colleges)


CollegeBuys, powered by the Foundation for California Community Colleges, offers discounts of up to 85 percent on a wide range of educational products—from industry-leading software and technology to high quality office and classroom furniture.

20% discount on all items, excluding clearance and everyday deals.

The coupon is active until 2020.

Best Buy offers students exclusive discounts on electronics such as Laptops, Televisions, and Calculators. Discounts change periodically giving students a chance to get deals on a variety of different products throughout the year.

Receive 10% off with coupon code CANCOL10

Receive 10% off with coupon code CANCOL_10

Monday through Thursday tickets cost $9.50

$15 admission

$25 for 3 classes

15% off any item on the website. Promo-Code: A943CD

Discounts on Dell laptops, desktops, and other electronics for students.

10% off any item on the website. Promo-Code: NVX1WH5JSHV1

$19 admission

Receive 10% off your quote when you email discount@glass.net with the following information:

Name, Phone number, School name, Zip code where you need service, Car year, Make and model, and Which glass needs to be replaced.

10% off any purchase

10% off entire purchase after enrollment.

Rent to Own homes are residential properties for rent; purchase is an available option, but is not required. A major benefit of these lease agreements is that they are very customizable depending on what is most convenient for the intended renter.

We want to offer you exclusive full-access membership completely free of charge. Simply go to JustRentToOwn.com click on the log-in tab, and enter

Username: campusfreeaccess@justrenttoown.com
Password: 2135681540

Discounts on Microsoft Surface products, Windows laptops and desktops, and Office 365 for students and parents.

$20 off on any binocular or trinocular microscope over $200

Mighty Skins is proud to offer discounts to students and educators. Students have tight budgets, and teachers pay for so much already out of there own pocket, we want to help both of you add some style to your device without hurting your wallet.

To take advantage of this student discount use the code 25off4edu at checkout to apply the discount. Make sure to order using your ".edu" email address.

15% off any product under $200 that does not have a reduced price with discount code mtpE57SP

It's not a trial! Students and teachers are eligible for Office 365 Education, which includes Word, Excel, PowerPoint, OneNote, and now Microsoft Teams, plus additional classroom tools. Use your my.smccd.edu email address to sign-up.

Receive 10% off a single item when you email discounts@otpinc.com with your school email address to receive your coupon code.

Enter CANA10DACOLL during checkout to enjoy a 10% off the entire order.

Minimum order amount of $50

10% off any purchase

Discount on a purchase or lease of a new car from Putnam Buick GMC and Putnam Chevrolet Cadillac.

25% off any body work

10% off excluding special offers.

$5 admission

Discounted Tickets for Select Games. For More information please follow: https://www.nhl.com/sharks/tickets/college-rush

$4 Admission.

Discounted Tickets for Students with Student Body Card

Discounted Tickets for Students with Student Body Card

$11 admission

Discount: 10% off your purchase.
Code: FS673Q

Waive room fees for any event rental Sunday-Friday. Please email sanantoniosales4@patobriens.com and mention this student body card discount program to receive your discount.

A free fountain soda or regular chips w/a purchase of any sandwich.

20% off new patient specials

25% off weight loss program

Receive 10% off your quote when you email discount@windshields.com with the following information:Name, Phone number, School name, zip code where you need service, Car year, Make and Model, and which glass needs to be replaced.

$50 flat rate for EZ individual forms to all Cañada College Students with a current Student Body Card.
Student Representation Fee
The Student Representation Fee of $2 per student per semester was established by an election of the student body of Cañada College. Under applicable provisions of the California Education Code, the students established the fee by a two-thirds majority of the students who voted in the election. The money collected through the Student Representation Fee will be expended to provide support for students or their representatives who may be stating their positions and viewpoints before city, county and district government, as well as before offices and agencies of local, State, and Federal governments. A student has the right to refuse to pay the Student Representation Fee for religious, political, moral or financial reasons. The fee is not covered by the California Community Colleges Board of Governors Waiver (BOGW) via financial aid and is not refundable unless an action of the College prevents the student from attending. A petition for a Student Representative Fee exemption may be obtained from the Cashier's Office, or by calling (650) 306-3270.