Cañada Collaborates
This website is organized to help Cañada College students, faculty, staff and administrators collaborate effectively as they strive to achieve our College Mission and ensure success for all of our diverse students.
What are our strategic initiatives for 2022-23 and beyond?
Each year, student, faculty, staff and administrator leaders at Cañada College identify the the specific actions we will take during the coming academic year to operationalize the strategic initiatives laid out in our Educational Master Plan (EMP) and our Strategic Enrollment Management Plan (SEM). In 2022-23, the College will launch the implementation of our new Educational Master Plan for 2022-2027.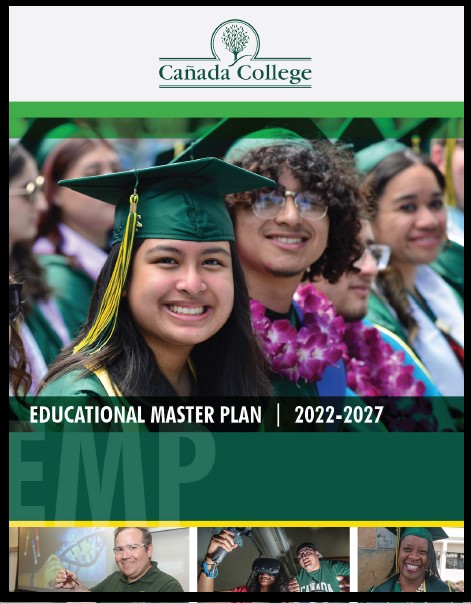 Leadership Retreat
As part of the College's annual planning cycle, campus leaders will convene for a Leadership Retreat on August 11, 2022 to discuss how to operationalize and implement the strategies contained in the new Educational Master Plan during the coming academic year. Information from prior Leadership Retreats can be found here. The draft annual strategic priorities discussed and refined by Leadership Retreat participants will be presented to the larger campus community on Flex Day (August 16, 2022) and then to the Planning and Budgeting Council during their first meeting on September 7, 2022, at which time the specific actions to be taken and the groups responsible for taking them will be finalized.
Working on our strategic priorities in 2022-2023
To begin the process of identifying lead individuals as well as College Councils, Senates, Committees, and operational groups who will be responsible for implementing the strategic initiatives identified in the Educational Master Plan, College Cabinet and PBC Co Chairs created a draft EMP implementation matrix. It is a draft document to be considered by participants in the Leadership Retreat as well as the College Councils, Senates, Committees and operational groups proposed to be responsible for implementing EMP initiatives. Preliminary assignments can be seen in the drop-down menus below. Note, some initiatives are duplicated across responsible groups and persons. Please submit feedback to your Senate, Council, or Committee leadership, or to the PRIE Office.
As of November 2, 2022, the PBC is requesting that all of the Groups working on EMP initiatives address the following questions and, when they report to PBC on their progress, that they report on their progress on addressing these questions in support of implementing the Asé Internal Equity Report and Recommendations of 2022:
How do you see your work contributing to (insert Áse recommendation)?
Is there more you feel your group could be doing to address [related recommendations]?
If so, what additional resources (training, personnel, etc...) would you need?
Are there any questions or concerns that the workgroup has with the recommendation and/or trying to implement the recommendation?
College Councils, Senates, Committees, Work Groups and Operational Groups
To work together effectively to achieve our goals, the College is organized into Councils, Senates, Committees, Work Groups and Operational Groups which are part of our participatory governance decision-making process. These groups, and the person(s) to contact include:

How can I get involved?
For more information about any of the initiatives or participatory governance committees, please email the person identified with it for more information.