Catalog-Rights Information and Past Catalog ARCHIVES
Catalog Rights Information
Each Catalog covers an academic year that reflects enrollment beginning with the fall term and includes subsequent spring and summer terms. Having "catalog rights" means students are held to the graduation requirements listed in the catalog at the time enrollment begins. Students may choose to use catalog rights for any subsequent year of continuous enrollment. For Cañada College, College of San Mateo and Skyline College, catalog rights apply to enrollment in any of the San Mateo County Community College District colleges.
Has your degree program requirements changed since you enrolled? Discuss your catalog rights with a counselor today.
---
Go to: General Education Worksheets Catalog Archives
Catalog-Rights Version of the 2022-2023 Catalog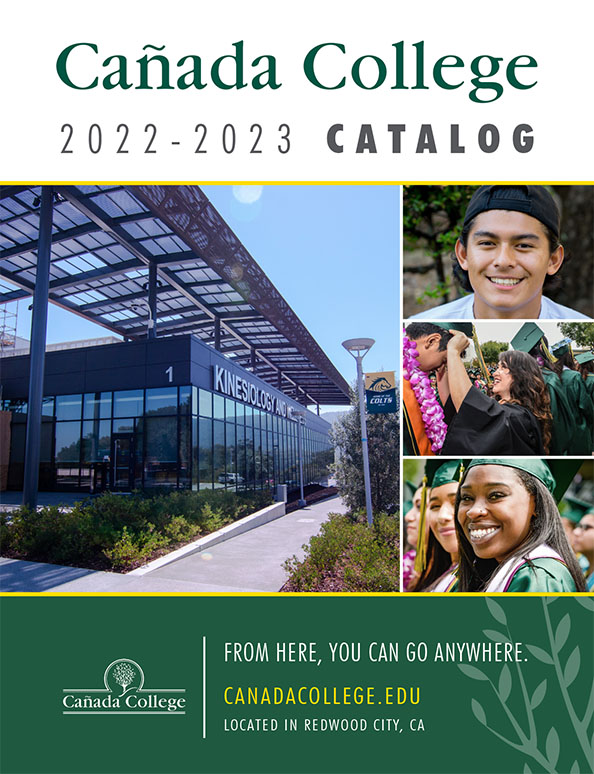 The Catalog-Rights, PDF version of 2022-2023 Cañada College Catalog can be read/downloaded as a PDF via the previous link, or via the thumbnail.
This version was published in the beginning of the Fall 2022 semester, and it is your contract with the college.
It remains unchanged from the first day of publishing.
Download the most up-to-date version of the catalog PDF for the 2022-2023 academic year.
At the end of the Summer 2023 semester, we will ARCHIVE both this original, Catalog-Rights version, as well as the final, updated PDF version, found here in our Catalog Website.
For the complete list of changes to the 2021-2022 catalog, please see the chart below.
Catalog Updates, Corrections, and Curriculum Amendments to the 2022-2023 Catalog
DATE
Amendments, Changes, C-ID Approvals
7/28/22
2022-2023 "Catalog-Rights" Version 1 was published on 7/28/22
8/16/22

2022-2023 Catalog Version 2 was published on 8/22/22
Changes found here: https://catalog.canadacollege.edu/current/certificates/requirements.php
Update to "Certificate of Achievement General Requirements"
3. All major (core and selectives) classes applied to the certificate must receive a grade of "C" or Pass or better. For additional information on the use of Pass/No Pass classes to satisfy certificate requirements, please refer to the Pass/No Pass Grading Option information found in the Grades and Academic Standards section of the catalog. A2.0 grade point average is required for all degree applicable coursework taken within the San Mateo County Community College District and all incoming degree applicable coursework taken outside the District.
General Education Worksheets - Catalog-Rights Versions
These worksheets were published near the Fall 2022 semester and remain unchanged. For the most up-to-date worksheets, please view the worksheets webpage in this catalog.
---
Past Catalog ARCHIVES
Documents on this page are available in pdf format which requires that you have Adobe® Reader®, available free from Adobe, installed on your computer.