2015-2016 Catalog
PDF version of this EXPIRED Catalog: 2015-2016 Catalog PDF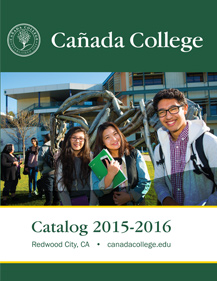 The Cañada College Catalog as it was published is available in pdf format which requires Adobe Acrobat® Reader™, available free from Adobe.
The official version of the General Catalog is available in the
Bookstore
or in
PDF
form.
(Click Image or Link for PDF)
This online version of the Cañada College Catalog is provided as a convenience to the campus and the general public. Every reasonable effort has been made to determine that everything stated at this site is accurate. Courses and programs offered, together with other information contained herein, are subject to change without notice by the administration for reasons related to student enrollment, level of financial support, or for any other reason, at the discretion of the College and the District.
The publication above is an archival document, and will generally not reflect changes that may take place during the period between official publications. Changes for the following academic year will be noted on this web page. Approved changes to courses are published in the Class Schedule and WebSMART.
Corrections and Curriculum Amendments to the Current Catalog
6/6/16

C-ID Approvals were received for the following courses: HIST 106 (C-ID HIST 160)

5/31/16

C-ID Approvals were received for the following courses: ECE. 191 (C-ID ENGL 180)

3/10/16

C-ID approvals were received for the following courses: MATH 270 & MATH 275 (C-ID MATH 910S: Both courses must be taken together)

2/26/16

C-ID approvals were received for the following courses: EDUC 200 (C-ID EDUC 200)

2/18/16

C-ID Approvals were received for the following courses: ENGR 111 (C-ID ENGR 180)

2/17/16

C-ID Approvals were received for the following courses: SPAN 152 (C-ID SPAN 230)

2/16/16

C-ID Approvals were received for the following courses: CHEM 210 (C-ID CHEM 110)

2/12/16

C-ID Approvals were received for the following courses: ENGR 210 (C-ID ENGR 150)
& ENGR 270 (C-ID ENGR 140B)

2/3/16

Spanish Associate in Arts Degree for Transfer (AA-T) has been approved

1/5/16

C-ID approvals were received for the following courses: SPAN 131 & 132 (C-ID SPAN 200)

11/24/15

C-ID Approvals were received for the following courses: CIS 284 (C-ID COMP 122)

11/13/15

C-ID Approvals were received for the following courses: LIT. 205 (C-ID ENGL 145), ART 105 (C-ID ARTH 130), and CIS 262 (C-ID COMP 152)

10/23/15

General Education Worksheets, External Examination Policies, and UC/USC Transfer courses have all been updated for the 2015-16 Academic Year. Please see pages 67-83 in the current catalog.

9/30/15

C-ID Approvals were received for the following courses: BIOL 310 (C-ID NUTR 110)

9/23/15

Cañada College is pleased to offer a new Intensive English Program called the Silicon Valley Intensive English Program (SVIEP), which will provide international students, local residents, and other nonimmigrants with relevant and effective not-for-credit English language instruction and American cultural enrichment for academic, professional, and personal purposes. Classes will be offered in five accelerated sessions per year, consisting of two 8-week fall sessions, two 8-week spring sessions, and one 10 week summer session. Offerings will include accelerated versions of existing ESL courses as well as classes in American Culture, Business English and Accent Modification. For more information visit http://smccd.edu/sviep.

8/18/15

List of Transfer Degrees was updated to include all of our ADT's. (pg 73 in Catalog PDF)

8/17/15

Two new Biology Associate in Science Degrees for Transfer (AS-T):

1. Associate in Science Degree for Transfer - Biological Sciences (pg. 90 in Catalog PDF)

2. Associate in Science Degree for Transfer - Nutrition and Dietetics (pg. 90 in Catalog PDF)

7/29/15

Fashion Merchandising should read, in all instances: Fashion Design Merchandising

7/29/15

For Honors Transfer Program, please contact the coordinator, Jessica Kaven Ed.D. at kavenj@smccd.edu, (650) 306-3347, and in Building 3, Room 211

7/29/15

COLTS (Community of Learning through Sports): Building 1, Room 204; Phone: (650) 306-334; Email: leematthew@smccd.edu

7/28/15

The following programs are no longer offered:

1. Kinesiology; Fitness Professional, AS Degree

2. Interior Design; Residential and Commercial Design, Certificate of Achievement

3. Interior Design; Sustainable Design, Certificate of Achievement

07/01/15
C-ID Approvals were received for the following courses: ART 221 (C-ID ARTS 210)
06/30/15
LIT. 205 New Voices in World Literature; class is no longer part of List A or the AA-T Associate in Arts Degree for Transfer - English (pg. 105)
06/15/15

C-ID Approvals were received for the following courses: SPAN 111 AND 112; Taken Together (C-ID SPAN 100)