Welcome to the Learning Center
Location: Building 9, Second Floor
Phone: (650) 306-3348
FALL Semester begins August 16th!
Fall Hours: 8AM - 9PM Monday through Thursday
Friday 8AM to 3PM
CLOSED: Saturday, Sunday
The Learning Center will be OPEN LATE for Finals week.
Extended Study will run to Midnight beginning Wednesday 12/6 through Wednesday 12/13.
NEW Extended Study Hours begin August 28th!
Located in the front lab of the Learning Center

9PM to 11PM Monday through Thursday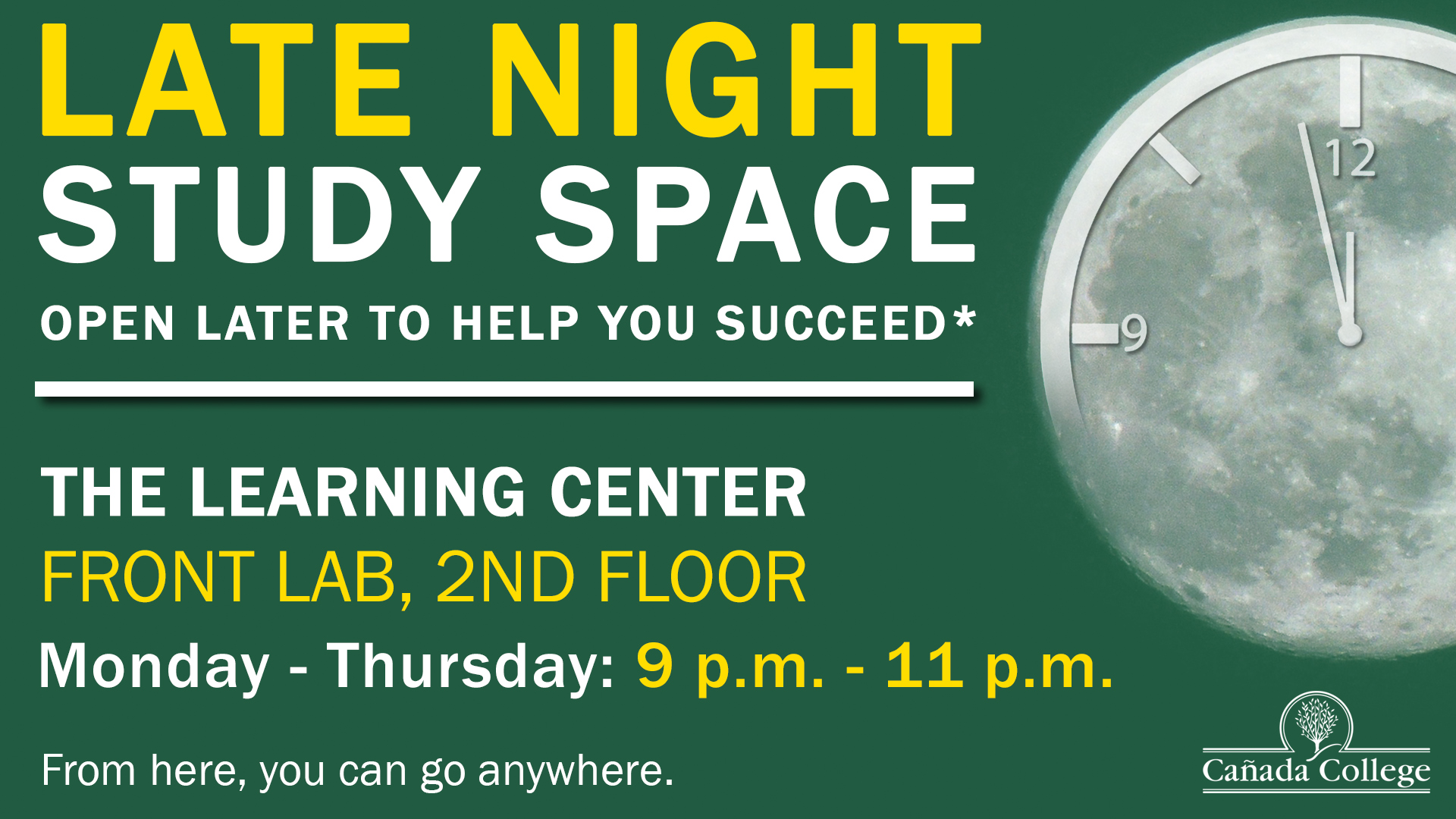 ---
Remember to sign up for the Math and Word Jams!
ONLINE SIGN-UPS NOW AVAILABLE CHECK THE JAMS PAGE AT:
https://www.canadacollege.edu/jam/
The next opportunity will be the Winter Jam Session in January 2018
---
What's Happening Today in the Learning Center!
About the Learning Center
The Learning Center has 145 PC computers with internet access available for student use. Windows 10. Microsoft Office Suite (Word, Excel, PowerPoint, Access, Publisher and FrontPage), Adobe Creative Suite and a wide variety of additional educational software are available.
Mission Statement
It is the mission of the Cañada College Learning Center to provide energetic, competent and friendly academic and related assistance to all Cañada students, regardless of the focus of their work at Cañada. Assistance includes peer and professional tutoring, workshops and technological support. We approach our work with passion, professionalism and creativity; our students with admiration and patience; and our colleagues with respect and a commitment to shared goals and values.
Learning Center Resources
Group study rooms
Textbooks on reserve
Headphones
Scientific calculators
Full size anatomically correct skeleton
3D Chemistry kits
Workshops