Chris Shreve
In April of 1983, I was a distracted and discouraged student who decided to take a year off from college in order to regain my focus. Thirteen years later, with my youngest child about to begin preschool, I decided that my "year off" from college had lasted long enough and with my husband's support and encouragement, I returned to school to finish what I had begun so many years before. My dream was to eventually teach preschool so I enrolled at Cañada College to restart my journey.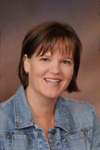 The ECE instructors at Cañada College were some of the most supportive people I had ever met. Yes, they were first my teachers, but secondly, they were my mentors and most importantly my cheerleaders. They made themselves accessible and I felt encouraged and supported. When it came time to complete my practicum coursework, I was fortunate to have the opportunity to test my wings at the Cañada College Child Development Center under the direction of Patty Dilko. With her encouragement and support, I took my first real steps into this exciting and rewarding field. Long after leaving the center, Patty continues to be a touchstone for me, an important mentor and guide. As I was reaching the last required classes of my A.S. degree in ECE, I confided in Dianne Eyer, that I would really like to continue my education but that I wasn't sure I could be successful in a big university. Believing in me more than I did in myself, Dianne encouraged me to give it a try. Two and a half years later I graduated Summa Cum Laude from Notre Dame de Namur University in Belmont. I am certain that the educational foundation, direction, and encouragement I received at Cañada College laid the foundation for my success at the University and beyond.
Currently, I am the Director at Holy Cross Preschool in Belmont. I am excited to work in a field that fulfills my desire to make a difference in the lives of children and families in my community. Additionally, I can honestly say I am living my dream. Won't you join me and follow your dream?