Elizabeth Martinson
As a first-time mother at 18 years old, I was terrified at all the stresses that lie ahead of me. I was worried if I was going to be able to handle this new life challenge that was brought upon me, and I knew I needed support to overcome this obstacle. When I took my first ECE class at Cañada College, I knew at that moment that I had found what I was searching for. The Professors were so warm and welcoming. They accepted me as I was and respected me as a student despite my circumstances. Their guidance is the reason I began pursuing a career in Early Childhood. I was so happy that I was able to receive their education as student and a mother. The knowledge I gained from the courses and the Professors at Cañada is some that I will never forget. I was able to develop the skills to be a qualified teacher and an educated mother.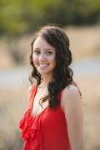 The courses at Cañada inspired me to want to know more about the field of Child Development and I knew that this was my true passion. After graduating with my Associates Degree in Early Childhood Education in May of 2015, I went on to continue my education, and I am currently in my Senior year at Cal State East Bay, and I will graduate with my Bachelor's Degree in Human Development, in June of 2017.
As I look back at those fearful days when I first found out I was going to have a child at 18, I never would have thought I would come this far. I was able to push through the obstacles of being a young mother, while going to school, and working. The encouragement I received at Cañada kept me motivated, as well as the support from my daughter. Without her, I don't know if I would have had the strength to be where I am now. Her inspiration and the help from the ECE department at Cañada have provided me with the tools I need to be a successful teacher.
I hope that my story can also inspire others to not let fear or any life obstacle, hold them back from chasing their dreams. Fear only has power if you allow it to, instead I challenge others to utilize that, harness that energy, and turn it into something positive. We are all in charge of our destiny and we all can make a difference as long as we don't give up and always fight for our dreams.