DRCSA
DRCSA stands for the Disability Resource Center Student Ambassador initiative, which is a new student lead college club that is here to support students with disabilities, and educating faculty and staff on how to better support students who require academic accommodations. We encourage anyone who believes in our mission to end the stigma of disabilities to join us! Email us anytime at: candrcsa@my.smccd.edu.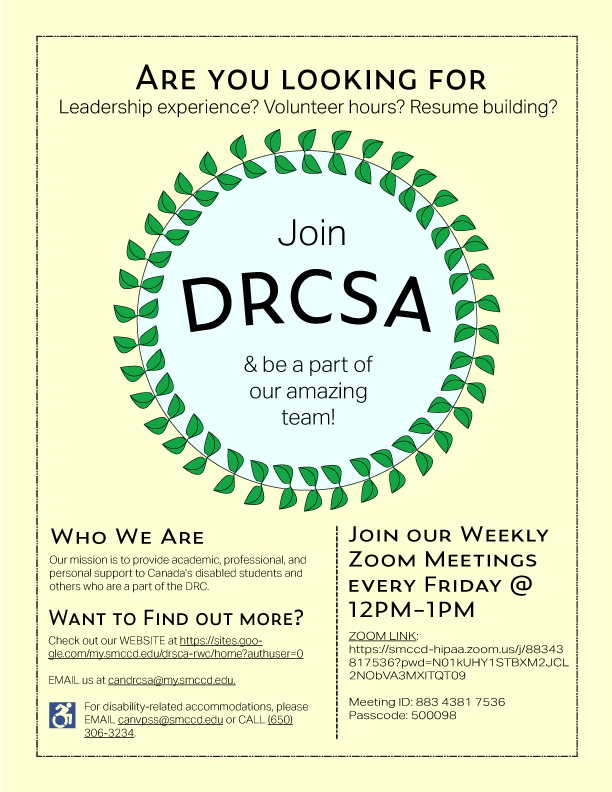 Click here to download flyer as a .png file.
Are you looking for leadership experience? Volunteer hours? Resume building?
Join DRCSA & be a part of our amazing team!
Our mission is to provide academic, professional, and personal support to Cañada's disabled students and others who are a part of the DRC.
Join our Weekly Zoom Meetings every Friday @ 12PM-1PM
ZOOM LINK: https://smccd-hipaa.zoom.us/j/88343817536?pwd=N01kUHY1STBXM2JCL2NObVA3MXlTQT09
Meeting ID: 883 4381 7536
Passcode: 500098
Check out our WEBSITE at https://sites.google.com/my.smccd.edu/drsca-rwc/home?authuser=0
EMAIL us at candrcsa@my.smccd.edu.
For disability-related accommodations, please EMAIL canvpss@smccd.edu or CALL (650) 306-3234.
Meet the Team
Come Meet Us at our Zoom Meetings! No RSVP Required.
Ambassadors and Members meets every Friday this semester from 12pm to 1pm: [CANCELLED 5/14/2021]
click HERE to join the Ambassador/member meetings

If you have any technical difficulties, please log into zoom.us and copy and paste:

Meeting ID: 883 4381 7536 and Passcode: 500098

You can also call into our zoom meeting by dialing: 1 669 900 6833 and then input:

Meeting ID: 883 4381 7536 and Passcode: 500098
Our Upcoming Events
April 13th - 1pm: Services provided by DRCSA to Support Disabled Students at Canada College (for Wellness Fair)
April 14th - 9am and 5pm: DRC orientation for incoming high school students:
April 15th - 4pm: DRCSA presents "What is an Accommodation?"
April 22 - 5pm: Wellness Presentation for Working Adults (CWA)
May 6th - 6pm to 8pm: DRCSA will represent the DRC and Wellness Center on the student panel
May 14th (time TBA): DRCSA presents Mental Health during COVID 19 for students with disabilities
Join Zoom Link:
Meeting ID: 816 3618 1604
Passcode:335844
TBA: Transfer Workshop to Private Universities
April 22nd, 2021; 1pm to 2:30pm:
Zoom link:
https://smccd-hipaa.zoom.us/j/82939744243?pwd=dXliSHEzUG8yNnAzd0pHNU40ZWt6UT09
Meeting ID: 829 3974 4243
Passcode: 216396
Title: Faculty and Staff Support for Disability Laws and Non-Discrimination: Guidance for Professional Practices.
Description: DRCSA (Disability Resource Center Student Ambassador) Initiative will host this workshop that will review the importance of following disability laws and the principle of non-discrimination toward students with disabilities on our campus. Cañada students will also be sharing their expertise and advice with faculty, so that faculty can use this information to guide their professional practices in their classrooms.
Agenda:
Introductions

DRCSA Information

Definition of Accessibility

What makes accommodations reasonable

When accommodations are not reasonable

Review of disability laws

Students talk about their personal experiences regarding accommodations:

Talking to students about their accommodations
Importance of privacy
Importance of Universal Design

Open discussion
Check Out Some Videos of Our Work
BASS 2021: Leo
Produced and Directed by Anastasia Lubarsky & Tariq Avila
This short film was nominated for Best Bay Area Student Short Film!
Here's the link to view short film: https://www.youtube.com/watch?v=ZqI_FzmC3Ko
What are Accommodations?"
This is a workshop that is scheduled for April 15th.
Video will be posted shortly afterwards