Announcements
---
Cañada Mural Design Workshop
Students are invited to join artist, Francisco Franco (Master Muralist, Precita Eyes) for a Mural Design Workshop from 12:30 – 3:00 pm on Wednesday May 18.
In Person Location: Building 3 Room 104
Zoom Room: tinyurl.com/CANMuralSpring
All supplies will be provided.
FREE BOBA for the first 50 who attend!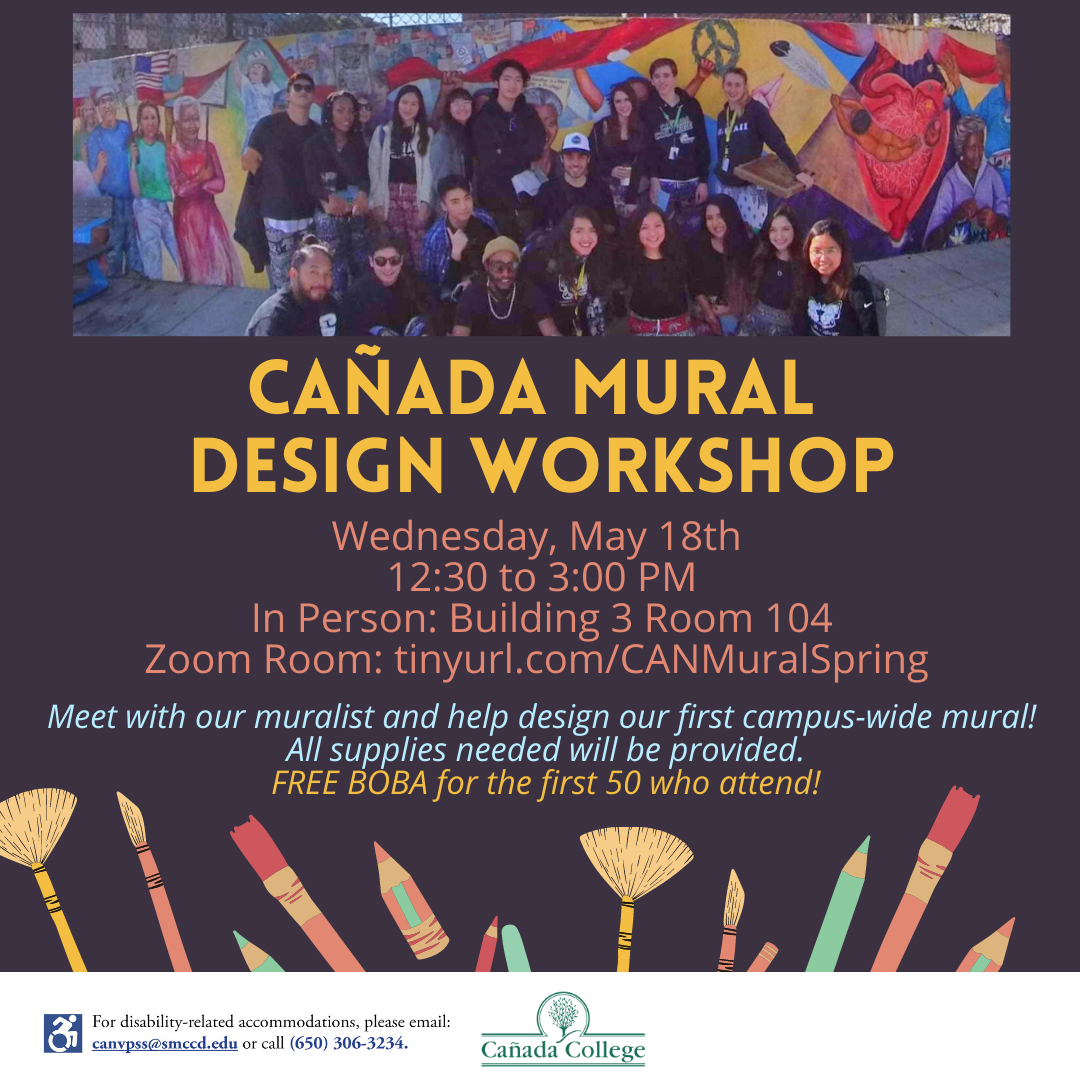 ---
CAPED (California Association for Postsecondary Education and Disability) Scholarship Application Now Open for 2022!
Open to California college and university students.
Applications will be accepted May 1st through August 31st.
For eligibility requirements and to apply online, visit https://www.caped.co/scholarships/
Questions? Please contact: caped.scholarship.committee@gmail.com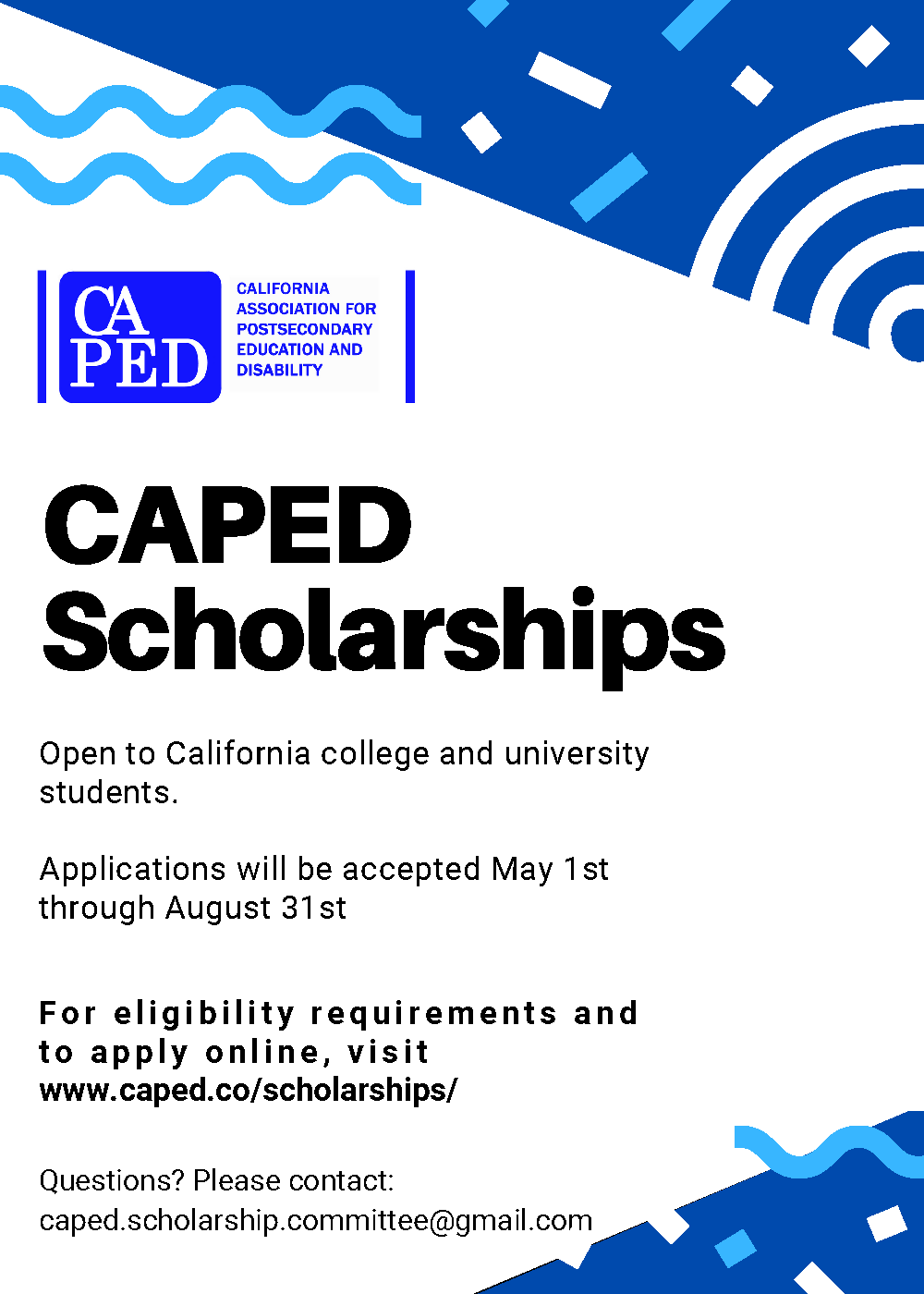 ---
---
Do you need help registering for summer classes?
Come to one of the Learning Center's drop-in support sessions! Both Zoom and in-person sessions available.
ZOOM LINK: https://smccd.zoom.us/j/89670397854
DATE
ZOOM TIME
IN-PERSON TIME
Tuesday, April 19th
11:00am to 1:00pm
11:00am to 1:00pm
Wednesday, April 20th
10:00am to 12:00pm
10:00am to 12:00pm AND 2:00pm to 4:00pm
Friday, April 22nd
10:00am to 12:30pm
11:00am to 1:00pm
Monday, April 25th
9:00am to 11:00am
12:00pm to 1:00pm AND 2:00pm to 4:00pm
Wednesday, April 27th
9:00am to 11:00am
11:00am to 1:00pm AND 2:00pm to 4:00pm
---
Come Meet the Newest Member of our DRC Family, Robbie the Robot!
Robbie is our brand new DRC robot, and the first robot in San Mateo Community College District for students to use as a way to attend HyFlex classes.
We'll be introducing Robbie to Cañada College at 11am on April 18th at the Grove.
Hope to see you there!
---
Cañada College DRC 2022 Spring Orientation
Come join us for our HyFlex event DRC Spring Orientation, where you'll meet our amazing DRC staff and take a tour of our beautiful campus.
Please follow this link to register for this event:https://smccd-czqfp.formstack.com/forms/spring_2022_orientation_registration.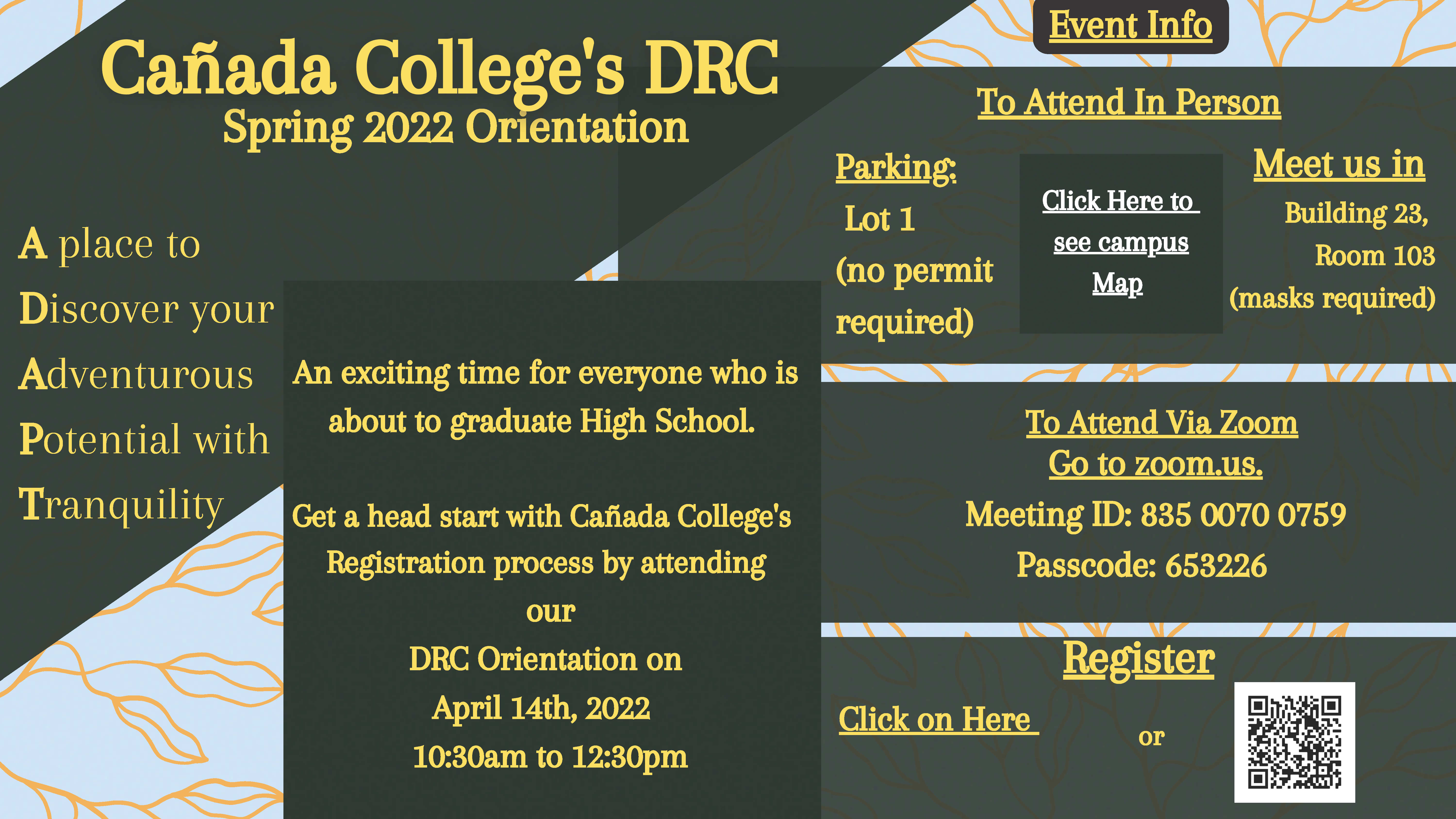 WHEN:
April 14th, 2022 from 10:30am to 12:30pm
WHERE:
If you're attending in-person: Park in Lot 1 (no permit required) and then meet us in Building 23, Room 103. MASKS ARE REQUIRED!
If you're attending via Zoom:https://smccd.zoom.us/j/83500700759?pwd=eFU5bUt3L25sTm1pYVpnM09iaXppdz09
---
Deadlines to update or create your SEP (Student Education Plan) are coming up!
What's an SEP?
An SEP is short for Student Education Plan, which is a plan you create with your academic counselor to help you achieve your academic goals.
Why have an SEP?
SEP helps you figure out which class you need to take to get an AA or your certificate AND gives you priority registration.
SEP DEADLINES FOR 2022:
Summer 2022: Thursday, April 7th at noon.
Fall 2022: Friday, April 29th at noon.
---
Are you planning on graduating this semester?
If so, we want to let you know that the deadline to turn in graduation petitions have been extended to April 8th!
If you need to make an appointment to meet with To Nhu Do (DRC Academic Counselor) to help you submit your graduation petition, please make an appointment with her using the SSL portal.
If you have never made an appointment with us in SSL, here is a step-by-step video tutorial:
If you need any assistance, please let us know and we'd be happy to help you.
---
SUMMER 2022 REGISTERATION DATES HAVE BEEN RELEASED!
Priority Reg: April 12, 2022
Open Registration: April 19, 2022
Late Registration: June 13th- June 16th
FALL 2022 HAVE ALSO BEEN RELEASED!
Priority Reg: May 4, 2022
Open Registration: May 18th.
Late Registration: August 17th-August 30th
---
The DRC is now offering SPECIALIZED TUTORING SERVICES
We currently have tutors for Biology, Chemistry, Math, English (ESL too!), and Graphic Design.
Email us for an appointment at canadadrc@smccd.edu or call us at (650) 306-3259.
---
PROFESSOR VALENZUELA'S ESL ENGLISH CLASSES
GROUP STUDY SESSION FOR SPRING 2022
EVERY FRIDAY
IN ALT MEDIA ROOM: BUILDING 5, ROOM 207
OR JOIN US VIA ZOOM:
Meeting ID:412 628 8975
Passcode:0V4Rbk
---
IMPORTANT NOTICE:
Use your OneLogin Student Success Link (SSL) to schedule appointments with our DRC Counselors & Alt Media Team:
You can now make your own appointments with DRC staff through the
SSL
link on your portal! To watch how, here's a tutorial video:
---
COVID-19 Vaccination Pop-Up Clinic at College of San Mateo
WHEN?
SPECIFIC TUESDAYS from 12PM to 4PM
JAN 11, FEB 1, FEB 22, MAR 15, APR 5, APR 26, MAY 17
WHERE?
College of San Mateo, Beethoven Lot 2
ELIGIBILITY?
Students, employees, and community members
Pfizer and Johnson & Johnson COVID-19 vaccines will be available for the first series shots
Pfizer, Moderna, and Johnson & Johnson vaccines available for boosters
Ages 12 - 17 require parental permission for registration process
Face covering required
HOW TO REGISTER?
Visit myturn.ca.gov
Click on "Make an Appointment"
When asked for address, enter "College of San Mateo".
---
Looking for a job on campus?
Come work with us at the Disability Resource Center!
If you're a student who 1) is eligible for WORK STUDY and 2) LOVES helping others, please email Dr. Bettina Lee (Dr. B.) at leeb@smccd.edu to schedule an interview OR for any other questions.
Some of the position benefits include:
a flexible and hybrid work schedule

competitive pay

helpful and welcoming coworkers

resume-building experience
---
2022-2023 SMCCCD Scholarship Application Now Open!
If you're planning to be a registered student at any of the three colleges within the SMCCCD (CSM, Skyline, or Cañada) during the 2022-2023 school year, apply ASAP to the annual SMCCCD Scholarship. Scholarship awards are based on the following categories:
Academic achievement
Financial need
Specific interests (clubs, athletics, service, etc.)
For more information about the SMCCCD Scholarship program and external scholarship links, please check out https://canadacollege.edu/financialaid/scholarship.php.
DEADLINE: MARCH 2022
---
Visit our annoucements archive to access flyers and event information from previous semesters.