Announcements
Priority Registration for Spring 2023
In order to receive priority registration, you must have an updated SEP (Student Educational Plan) This should cover the summer of 2023.

If you are not sure if you have a current SEP, follow these steps to check:
Sign

on to web smart

Click on "student account"

Click on "degreeworks"

Click on "ed plan"

Look at the educational plan and make sure your SEP covers Summer 2023
If your SEP does not cover Summer 2023 OR you have not completed a SEP yet, please contact the Counseling Center to see a general counselor as soon as possible.

Here are the priority registration dates for Spring 2023 and Summer 2023:
- Spring 2023 priority registration begins November 2nd, 2022.
- Summer 2023 priority registration begins April 11th, 2023.
---
---
DRCSA Club Fall 2022: join us!
We are here to support students with disabilities and end the stigma of disabilities.
Join us at our first informal meeting on September 16th via Zoom!
Meeting ID: 864 6078 8952 - Passcode: 505193
If you'd like to apply to become a member or leader, fill in our application.
---
Looking for a job on campus? Come and work with us at the Disability Resource Center!
If you're a student who
is eligible for work-study
and

loves helping others, please email Dr. Bettina Lee (Dr. B.) at

leeb@smccd.edu

to schedule an interview or for any other questions.
Some of the position benefits include:
a flexible and hybrid work schedule competitive pay
helpful and welcoming coworkers
resume-building experience
Visit our Jobs and Internships page for more information.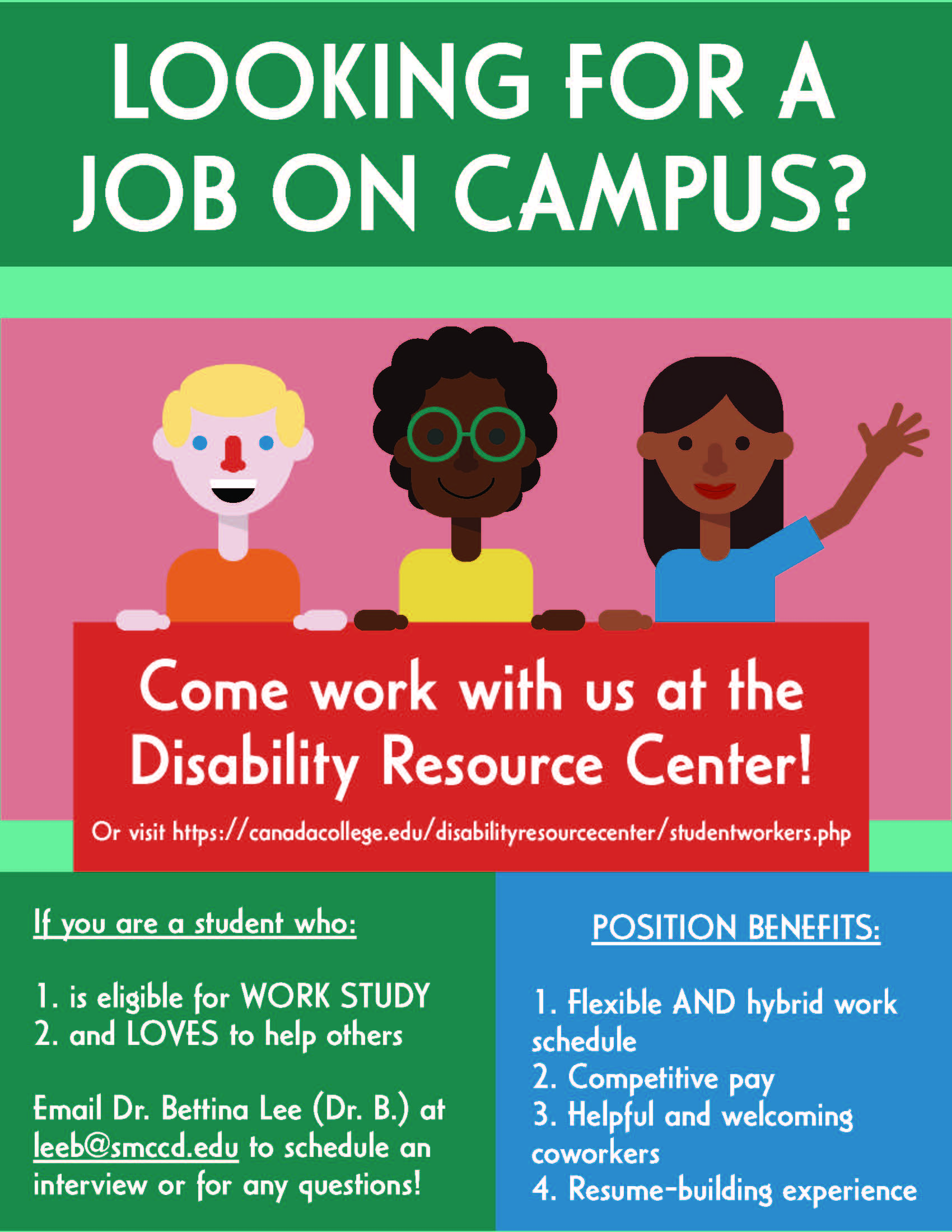 Click here to download flyer as pdf.
---