Announcements
---
COVID-19 Vaccination Pop-Up Clinic at College of San Mateo
WHEN?
SPECIFIC TUESDAYS from 12PM to 4PM
JAN 11, FEB 1, FEB 22, MAR 15, APR 5, APR 26, MAY 17
WHERE?
College of San Mateo, Beethoven Lot 2
ELIGIBILITY?
Students, employees, and community members
Pfizer and Johnson & Johnson COVID-19 vaccines will be available for the first series shots
Pfizer, Moderna, and Johnson & Johnson vaccines available for boosters
Ages 12 - 17 require parental permission for registration process
Face covering required
HOW TO REGISTER?
Visit myturn.ca.gov
Click on "Make an Appointment"
When asked for address, enter "College of San Mateo".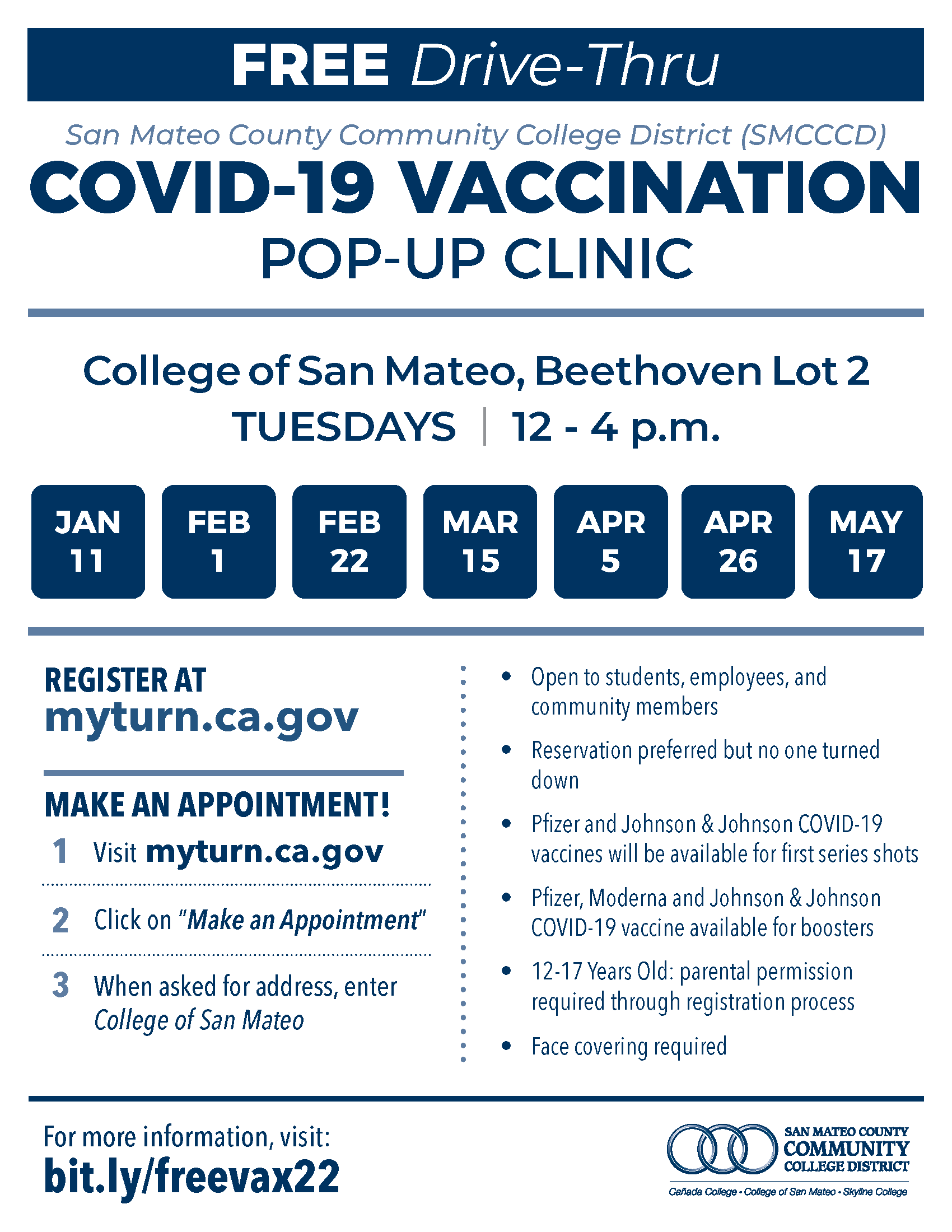 Click here to download flyer as pdf.
---
2022-2023 SMCCCD Scholarship Application Now Open!
If you're planning to be a registered student at any of the three colleges within the SMCCCD (CSM, Skyline, or Cañada) during the 2022-2023 school year, apply ASAP to the annual SMCCCD Scholarship. Scholarship awards are based on the following categories:
Academic achievement
Financial need
Specific interests (clubs, athletics, service, etc.)
For more information about the SMCCCD Scholarship program and external scholarship links, please check out https://canadacollege.edu/financialaid/scholarship.php.
DEADLINE: MARCH 2022
---
Students Affected by AAPI Violence
Here are links to several Asian mental health groups:
https://www.instagram.com/asianmentalhealthproject/
https://www.facebook.com/massAAMHF/
https://www.dearasianyouth.org
Asian American and Pacific Islander | NAMI: National Alliance on Mental Illness
---
Announcement Archive
Visit our
annoucements archive

to access flyers and event information from previous semesters.