Commencement Speaker
Student Speaker: Cindy Streitenberger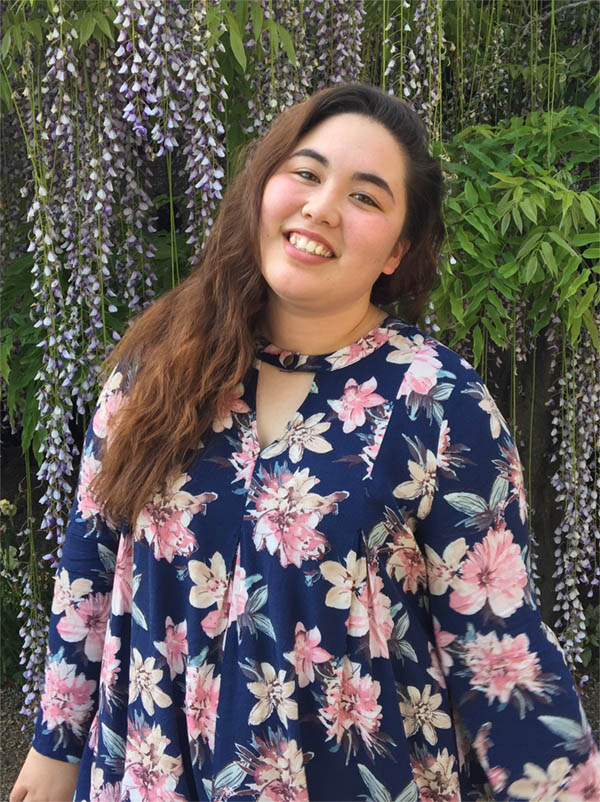 Cindy was born and raised in Kobe, Japan, and moved to the Bay Area with her family in 1999. She learned to appreciate and develop different cultures very quickly. Her determination for gaining experience and knowledge of several majors persuaded her to take interest in the Communication field. After experimenting with different majors at Cañada College and studying abroad in Europe through the SMCCD travel abroad program, she will be receiving her Associates of Science degree in Fashion Merchandising and an Associates of Arts for Transfer degree in Communication Studies. In addition to her time as President in the Associated Students of Cañada College, she has been heavily involved in the community. Working as a student intern with Sparkpoint and the Marketing Department, she was also asked by Congresswoman Anna Eschoo to lead the Pledge of Allegiance during her town hall meeting at Cañada College.
Along with completing the Honors Transfer Program and being inducted into the Beta Zeta Nu's Phi Theta Kappa chapter, Cindy will be transferring to University of Santa Barbara to pursue her Bachelor's degree in Communications in the Fall, where she will be the first in her family to attend a University in the United States.
Meet the Past Student Speakers
2016 Student Speaker — Dominique Franceschi Suescun
Dominique enrolled full-time at Cañada College in Fall 2014 as an International Student coming from Bogota, Colombia. Before coming to Cañada, she completed a 4-year Musical Theater program in her hometown, and prior to that graduated from the Anglo Colombia School with an International Baccalaureate diploma. She chose Cañada College because of the friendly and welcoming environment they promoted, and all the tools that are available to help students achieve their dreams to their fullest potential.
During her time at Cañada, Dominique was President of the Multicultural Awareness Project (MAP) Club, Commissioner of Publicity and Senator for the Associated Students of Cañada College and a member of Glee Club, Journalism Club, and Drama Club. Dominique also held several campus positions. She was an International Student Ambassador at the International Student Center, a Student Assistant at the Cañada College Bookstore, and Tutored ESL, English, Communications, Music and Drama at the Learning Center. In her spare time, she taught dance at The Tutu School and volunteer with Relay for Life in Redwood City.
Dominique will be transferring to the American Music and Dramatic Academy in Los Angeles to pursue a Bachelor of Fine Arts (BFA) in Performing Arts, where she hopes to continue to grow as a student, performer and human being.
2015 Student Speaker — Angelica Mendoza
Angelica has been taking classes at Cañada since Spring 2007 as a sophomore in High School. She graduated from East Palo Alto Academy in 2009. As a first generation college student; Angelica was drawn to Cañada because of the student to teacher ratio. The one on one attention and care she received from the Cañada community impacted her immensely. Throughout the past four years, Angelica has been actively involved in TRIO, BTO, and Student Life. She is receiving her Associate's Degree in Communications and will be transferring to Notre Dame de Namur University in the Fall. Angelica plans to major in Business Administration with a focus in Management. With this, she hopes to work in an environment where she can help future students find their path to success.
2014 Student Speaker - Steven Jackson
Prior to coming to Cañada College, Steven worked for more than 13 years in the telecommunications industry throughout the SiliconValley. When he was laid off from Hewlett Packard at the end of 2011, he enrolled at Cañada in the hope of eventually earning a degree in Business Administration. In accomplishing that goal, he is the first in his family to have graduated with a college degree.Steven is an officer in the Phi Theta Kappa Honors Society, a member of the college's Beating TheOdds program, a peer mentor for disenfranchised, first generation students, and a volunteer with the Ecumenical Hunger Program in East Palo Alto, a non-profit organization that provides furniture, food, and clothing to low-income families. Steven will be attending UC Berkeley in the spring where he plans to major in Rhetoric with a minor in Economics. At Cañada College he completed four separate degrees, including, Business Administration, an AS in Accounting, an AA in Economics, and an AA in Interdisciplinary Studies with an emphasis on Social and Behavioral Sciences.