Commencement Speaker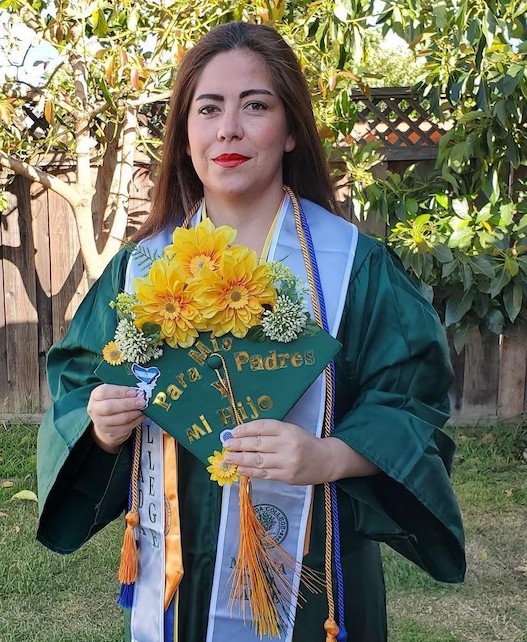 Griselda Mayén


Class of 2022 Student Speaker

Griselda Mayén immigrated to the United States in 2012 from Los Jobos, a small village in Guatemala. She came to the United States looking for opportunities but did not speak English and her goal was to learn the language. She quickly discovered that this was only the beginning of her dreams and that she also wanted to achieve a college degree. After completing English as a Second Language (ESL) classes at Sequoia Adult School, Griselda transferred to Cañada College. While at Cañada, she has obtained her Preparation for Academic Scholarship and Success (PASS) Certificate, Certification in Bilingualism and Biliteracy in English/Spanish, CSU/GE Certification and Associate Degrees in Spanish, Business Administration (AS and ADT), Economics and Interdisciplinary Studies with a Concentration in Behavioral & Social Sciences. As a member of Phi Theta Kappa and an EOPS student, she is grateful for the support that Cañada College has given to her. Griselda is currently working as a Student Fellow for Upward Scholars, a non-profit organization that has supported her during her educational journey. In return, she plans to support other students during their journeys. Griselda strongly believes that education is the fundamental basis for personal and collective growth and she is excited to support her community and help students who are looking for a better future. Griselda has been accepted into Menlo College where she plans to earn a Bachelor's Degree in Business Analysis. She plans to give a 100 percent effort to achieve her goals so she can better prepare herself to give back to her community and help other students. Griselda shared, "Cañada College was the place that offered me a great opportunity where I was able to change my life and have a better future. Thank you, Cañada College and all of the people who helped me along the way."
Meet the Past Student Speakers
Historically, Cañada College has selected one commencement speaker to represent the graduating class. To mark this truly exceptional experience (COVID-19 Pandemic), Cañada College has chosen to highlight two graduates whose voices encompass stories that are uniquely different but equally important. Cañada College will resume its tradition of selecting one commencement speaker for future commencement ceremonies.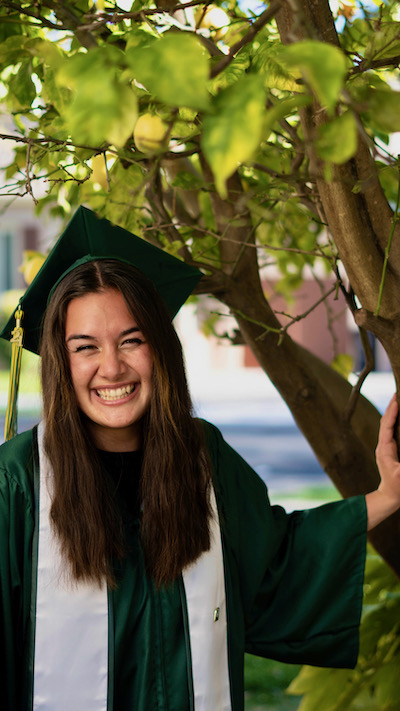 2021 Student Speaker — Aimée Kanadjian
During her time at Cañada College, Aimée Kanadjian served as a Student Senator for the Associated Students of Cañada College, chaired the Campus Inclusion Team Initiative, completed the Honors Transfer Program, was a member of Phi Theta Kappa, was a Promise Scholar, worked as a Mental Health Peer Educator, and was Vice President of Active Minds at Cañada. Aimée will be transferring to the University of California, Los Angeles to complete her Bachelor of Arts in Psychology and plans to pursue graduate education and a career in Speech Pathology.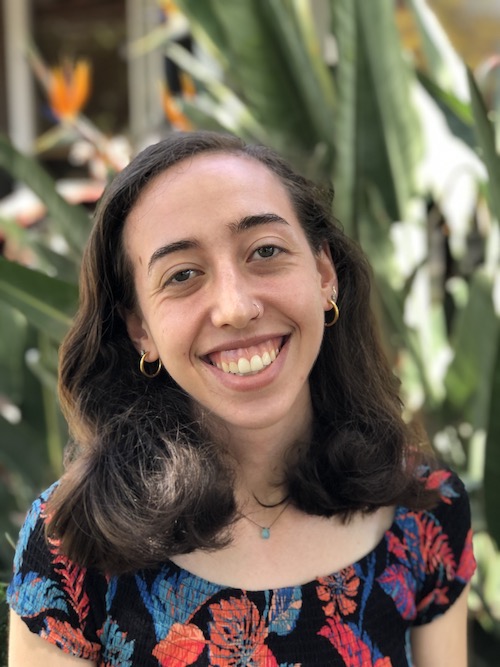 2021 Student Speaker — Naomi Levine Sporer
Naomi Levine Sporer has known her entire life that she wanted to become a teacher. With the help of her teachers at Cañada College, she gained many skills in her classes but especially in the Early Education Classes which she will use in the future as she continues her education to become a teacher. During her time at Cañada she was a part of the Educators Now Club. The club wrote and published a children's book, Adventures of the Mighty-Five: Fighting Corvin and the Creeps, which teaches children how to respond to a worldwide pandemic. Naomi will be receive an Associate in Science Degree from Cañada and transfer to California State University, Northridge to pursue a Bachelor's Degree in Child and Adolescent Development and also obtain a teaching credential.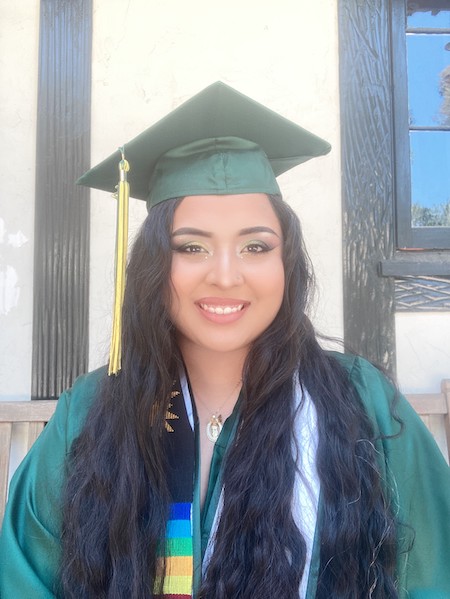 2020 Student Speaker — Jasmin Padilla Valencia
Jasmin Padilla Valencia is a proud member of the Class of 2020. She is an incredible artist, an OG Puentista at Cañada College, a former Student Senate Executive Board Member as well as a past President of the DREAMers Club, Jasmin was also one of students who lead the Campus Mural Task Force and was a student delegate for Cañada's Guided Pathways efforts.
Jasmin is the first in her family to graduate from high school, and is the first in her family to graduate from college. She is now attending Fresno State University pursuing as Bachelor of Arts degree in Mass Communications.
2019 Student Speaker — Jay Magaña Fierro
Jay enrolled at Cañada College in Fall 2014. He is a first generation student who had to figure out the college system all by himself. He became a part of EOPS and PTK, which helped him with his college journey. Jay quickly became involved in various extracurriculars, including Student Senate, Tutoring, GSA Club, and the Drama Department. While tutoring, Jay found that he had a skill for describing challenging mathematical concepts to his classmates, leading him to consider a career in education. He also found that he enjoys helping other students, which led him to become a STEM Peer Mentor and helping other historically underrepresented minorities, like himself, pursue a career in STEM.
Jay was very shy when first starting at Cañada, but once becoming more involved on campus, Cañada soon became a second home to him. Jay practically lived at Cañada; he could always be found at the Learning Center, the STEM Center, or at the Clubhouse for GSA meetings. This year he will pass on the role of President and the responsibility of Alliance day, an event created by him meant to bring together the Canada community.
This fall, Jay will be graduating with an AS-T in Mathematics and an AA in Communication Studies and transferring to Sonoma State University to obtain his Bachelor's of Arts in Mathematics.
2018 Student Speaker — Marleny Ramos
Marleny Ramos was born in San Francisco. At the age of 11, due to immigration circumstances, she and her family moved to Guatemala. This is where her obstacles started and she began to grow and fight for her dreams.
When she first moved Guatemala, she had to quickly adapt to the culture change, as well as the language barrier since she mostly spoke English in the United States. The first year was a struggle, but her dream of becoming a professional pushed her to become one of the top students in her class. While in school in Guatemala, she took part in, and won, several Math and Science competitions. This experience sparked her interest in Science. Her dream was to complete college in the United States so, upon high school graduation in Guatemala, she left her family and returned to the States to pursue her education at Cañada College.
Marleny had a challenging first year as a Biology major at Cañada College learning to, once again, adapt to the culture and language as well as be completely independent. After her first year, she joined the Phi Theta Kappa Honor Society, which motivated her to continue strong. Unfortunately, due to the challenges she faces without family support, Marleny took year and a half off of school. When she returned, she came back stronger than ever.
Returning to Cañada full-time in Spring 2017 was the best thing that ever happened to her as she met Chemistry Professors Elizabeth Barile and Jeanette Medina who inspired her to pursue a degree in Chemistry. Professors Barile and Medina became Marleny's mentors and cheerleaders, pushing her to become a Chemistry tutor at the STEM Center. This was, by far, one of her most significant accomplishments during her time at Cañada. Her work at the STEM Center, particularly as an EPIC Leader, had a huge impact on her life as it allowed her to not only help students succeed in their classes, but to inspire and encourage them to pursue their dreams.
The opportunity to help others and work toward her goals would have not been possible without the support of her mentors at Cañada College. Marleny will graduate with an AS in Biology and transfer to a UC, where she will obtain a Bachelor's degree in Biochemistry. Her ultimate goal is to obtain a PhD in Organic Chemistry so she can return and teach at Cañada College.
2017 Student Speaker — Cindy Streitenberger
Cindy was born and raised in Kobe, Japan, and moved to the Bay Area with her family in 1999. She learned to appreciate and develop different cultures very quickly. Her determination for gaining experience and knowledge of several majors persuaded her to take interest in the Communication field. After experimenting with different majors at Cañada College and studying abroad in Europe through the SMCCD travel abroad program, she will be receiving her Associates of Science degree in Fashion Merchandising and an Associates of Arts for Transfer degree in Communication Studies. In addition to her time as President in the Associated Students of Cañada College, she has been heavily involved in the community. Working as a student intern with Sparkpoint and the Marketing Department, she was also asked by Congresswoman Anna Eschoo to lead the Pledge of Allegiance during her town hall meeting at Cañada College.
Along with completing the Honors Transfer Program and being inducted into the Beta Zeta Nu's Phi Theta Kappa chapter, Cindy will be transferring to University of Santa Barbara to pursue her Bachelor's degree in Communications in the Fall, where she will be the first in her family to attend a University in the United States.
2016 Student Speaker — Dominique Franceschi Suescun
Dominique enrolled full-time at Cañada College in Fall 2014 as an International Student coming from Bogota, Colombia. Before coming to Cañada, she completed a 4-year Musical Theater program in her hometown, and prior to that graduated from the Anglo Colombia School with an International Baccalaureate diploma. She chose Cañada College because of the friendly and welcoming environment they promoted, and all the tools that are available to help students achieve their dreams to their fullest potential.
During her time at Cañada, Dominique was President of the Multicultural Awareness Project (MAP) Club, Commissioner of Publicity and Senator for the Associated Students of Cañada College and a member of Glee Club, Journalism Club, and Drama Club. Dominique also held several campus positions. She was an International Student Ambassador at the International Student Center, a Student Assistant at the Cañada College Bookstore, and Tutored ESL, English, Communications, Music and Drama at the Learning Center. In her spare time, she taught dance at The Tutu School and volunteer with Relay for Life in Redwood City.
Dominique will be transferring to the American Music and Dramatic Academy in Los Angeles to pursue a Bachelor of Fine Arts (BFA) in Performing Arts, where she hopes to continue to grow as a student, performer and human being.
2015 Student Speaker — Angelica Mendoza
Angelica has been taking classes at Cañada since Spring 2007 as a sophomore in High School. She graduated from East Palo Alto Academy in 2009. As a first generation college student; Angelica was drawn to Cañada because of the student to teacher ratio. The one on one attention and care she received from the Cañada community impacted her immensely. Throughout the past four years, Angelica has been actively involved in TRIO, BTO, and Student Life. She is receiving her Associate's Degree in Communications and will be transferring to Notre Dame de Namur University in the Fall. Angelica plans to major in Business Administration with a focus in Management. With this, she hopes to work in an environment where she can help future students find their path to success.
2014 Student Speaker - Steven Jackson
Prior to coming to Cañada College, Steven worked for more than 13 years in the telecommunications industry throughout the SiliconValley. When he was laid off from Hewlett Packard at the end of 2011, he enrolled at Cañada in the hope of eventually earning a degree in Business Administration. In accomplishing that goal, he is the first in his family to have graduated with a college degree.Steven is an officer in the Phi Theta Kappa Honors Society, a member of the college's Beating TheOdds program, a peer mentor for disenfranchised, first generation students, and a volunteer with the Ecumenical Hunger Program in East Palo Alto, a non-profit organization that provides furniture, food, and clothing to low-income families. Steven will be attending UC Berkeley in the spring where he plans to major in Rhetoric with a minor in Economics. At Cañada College he completed four separate degrees, including, Business Administration, an AS in Accounting, an AA in Economics, and an AA in Interdisciplinary Studies with an emphasis on Social and Behavioral Sciences.