Alumni
Join us on LinkedIn.
Support Cañada College through the SMCCCD Foundation.
Alumni Feature: Glen Tojoy: Fashioning a New Career on Savile Row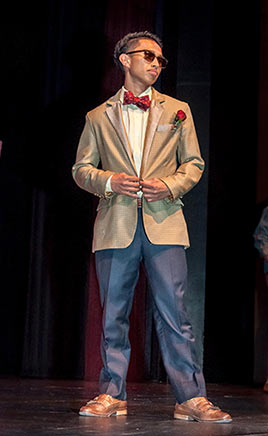 London's Savile Row is famous for its traditional men's bespoke tailoring where customers such as Prince Charles and actor Jude Law have suits custom made by hand. That's also where you'll find Glenn Tojoy, a graduate of Cañada's fashion design program.
Tojoy is studying at the prestigious Savile Row Academy where he is learning the art of bespoke tailoring. "The courses are designed to prepare us to become a ready-to-work tailor," he said. "We learn practical handcraft skills and other core training. The curriculum prepares us to work in cutting and tailoring rooms anywhere in the world and gives us the foundation we need to open our own business."
Tojoy emigrated from the Philippines to San Mateo County 15 years ago. He enrolled at Cañada in 2010 with an interest in fashion design. "I chose Cañada because it offers a whole range of classes that are similar to the highly-marketed fashion institutes around the nation," Tojoy said. "The difference is, Cañada is more affordable and the instructors are very experienced."
Tojoy said Professor Ronda Chaney and the instructors and staff in Cañada's Fashion Department understood and embraced his skill and creativity. He said they worked with him to improve his craftsmanship. "The improvement was dramatic," he said. "I couldn't have imagined how much I would learn and improve at Cañada."
Chaney said the suits Tojoy made in tailoring classes were professionally constructed with an excellent fit. "He understood that such skills required many lab hours of making patterns and learning the steps to tailor the garment," she said. "Glenn received several certificates in Cañada's Fashion Program and was a delightful student."
Cañada prepared Tojoy to work on Savile Row. "Expectations were high at Cañada. They taught us about what we should expect in a career in the fashion industry. It was a very hands-on experience."
In 2012, Tojoy visited London to look at several training opportunities. Instructors at the Savile Row Academy were so impressed by his work at Cañada that they hand-selected him for their training program. "This is an excellent opportunity because I want to start my own business at some point," Tojoy said.
Tojoy said Cañada College is an excellent place to begin a career in fashion. "The entire school is supportive. From the academic counselors, deans, employees in financial aid and even the janitors were a great support system. They want you to succeed." While the support is there, Tojoy said students need to be focused on their work. "It's not easy. They will push you but it only makes you better."