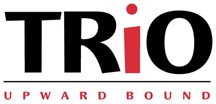 Cañada College Upward Bound Program
TRIO Upward Bound is a federally funded pre-college program designed to assist low-income and potential first generation to college students prepare for college. In partnership with Sequoia Union High School District, our program serves high school students in the communities of East Palo Alto and North Fair Oaks.
The Upward Bound Program is a year round program. The school year consists of monthly workshops at Cañada College and weekly tutoring and academic advising at Sequoia High School and Woodside High School. During the summer, Upward Bound students participate in a six week program offering academic courses, workshops, field trips and activities. All classes are taught on the Cañada College campus.
Students who are interested in joining Upward Bound can download a brochure (Spanish) and Pre-Screening to help us determine if you are eligible for the program. Please turn in these forms to our classroom at Sequoia (248), Woodside (H-3), or mail them to our office at Cañada (22-111 & 112). We will be accepting applications through October 1st. Please contact us today to get more information!
Our Mission
Our mission is to provide Upward Bound students the necessary preparation and opportunity to enter post secondary education and promote education, diversity, and community.

For more information please contact us at:
Upward Bound, Cañada College office
Building 22 Rooms, 111 and 112
(650) 306-3332, huningm@smccd.edu
para información en Español (650) 306-3335
Our calendar has been updated, please take a look to be aware of our upcoming events.