George Floyd
Cañada Umoja Community Honors George Floyd
11 a.m.- 1 p.m.
Umoja Village (9-307) or Zoom link: https://smccd.zoom.us/j/89119107371
RSVP: https://forms.gle/fR5HCXc6CunKXeX17
Join the Umoja community as we honor George Floyd on his birthday and discuss his impact on society and our campus. We'll be enjoying each other's company, eating Indian pizza, and watching the documentary 8 Minutes and 46 Seconds: The Killing of George Floyd. Narrated by Idris Elba, the film recounts Floyd's murder, the international public outcry it generated, and the social reforms that might be achieved in its wake. If you have any questions, please contact Lezlee Ware (Umoja Program Coordinator) warel@smccd.edu
--------------------------------------------
On May 25, 2020—a few days after Cañada College completed its first full pandemic-imposed online semester—George Floyd was murdered by a Minneapolis police officer. While Floyd lay on the ground handcuffed, the officer knelt with his knee braced on Floyd's neck for over nine minutes—past the point that he stopped moving, past the point that he stopped breathing. Meanwhile, three other officers stood by and did nothing—except to threaten and harass the group of horrified onlookers that pleaded with them to recognize Floyd's humanity and stop taking his life.
One of those onlookers was seventeen-year-old Darnella Frazier. In addition to pleading for Floyd's life, she documented his murder, recording it on her cell phone—an act of courage that eventually earned her an honorary Pulitzer prize and inspired what is estimated to have been the largest protest movement in American history, with 15-26 million people turning out to demonstrate their opposition to police terror in the weeks following Floyd's murder.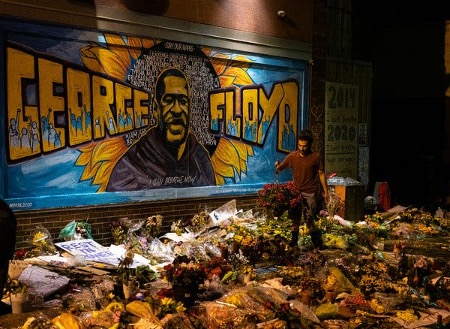 It was in this context that a group of Cañada faculty came together again to figure out how to fight the racism and injustice that led to and is symbolized by Floyd's murder. How can we work towards a world in which a murder like his would be inconceivable instead of a recurring tragedy? We decided that one way would be to start an Umoja chapter on our campus, both to actively demonstrate to our Black students that we recognize and celebrate their humanity and to act as a lightning rod and organizing center for the fight for racial justice.
The actions of the police murderer and his accomplices demonstrated the lack of humanity that is integral to white supremacy. But the response of the onlookers manifested something very different: the Umoja principles of "biashara ya kila mtu" (everybody's business) and ubuntu (I am because we are).
As Darnella Frazier recorded the crime, off-duty firefighter and paramedic Genevieve Hansen repeatedly urged the murderer in uniform to check Floyd's pulse and offered her aid and expertise again and again. She later testified about her experience: "I don't know if you've seen anybody be killed, but it's upsetting." Security guard and mixed martial artist Donald Williams "called the cops on the cops" as he watched Floyd's life "fade away, like a fish in a bag." And 911 dispatcher Jena Scurry bucked the code of silence to follow her instinct that "something was not right": "Call me a snitch if you want to," she said, "[but] all of them sat on this man."
While George Floyd's murderer demonstrated all that is wrong with our society, the group of onlookers showed how, following basic Umoja principles, we can begin to make it right, by recognizing our shared humanity and making justice everybody's business.
George Floyd: ¡Presente! ¡Si se puede! Nguvu Nyeusi
GEORGE FLOYD MEMORIAL FOUNDATION