Faculty & Staff Recognition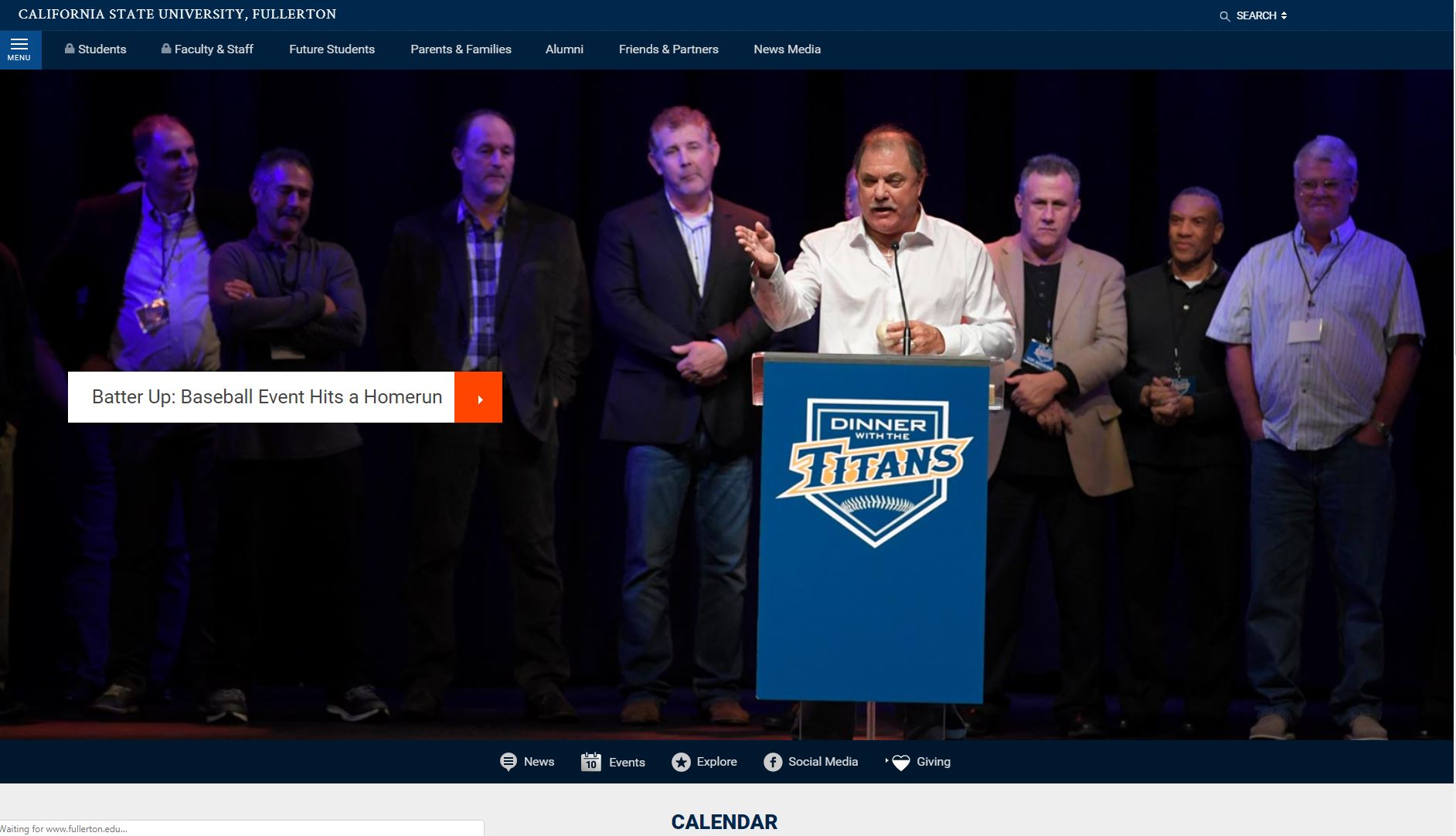 Cañada College Athletic Director Honored at Cal State Fullerton
Former Cañada Athletic Director Mike Garcia (retired 2019) returned to his alma mater to speak at the Dinner with the Titans annual fundraiser. As a student, Garcia transferred from Cañada College as an All-State athlete to CSU Fullerton, where he was captain of the Titans baseball team during their 1979 NCAA National Championship. On that 40-year anniversary of the team's first championship win, Garcia shared stories from the stage about the team's tough journey to clinch that win.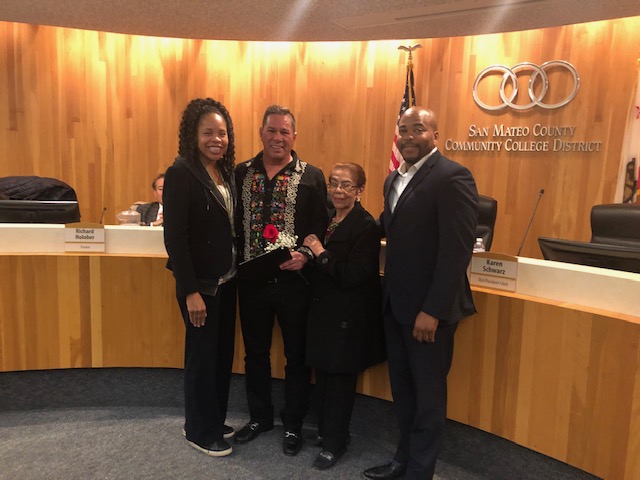 SMCCCD Classified Employee of the Year: José Peña from Cañada College
José Peña was selected as the San Mateo County Community College District, Classified Employee of the Year on February 27, 2019. José has been a part of the Cañada College family for 41 years and started as a student from Mexico at the age of 15. He serves as the Curriculum Instructional Specialist after serving as a faculty member for almost two decades. His role is vast on campus and many rely on his expertise and he is a pivotal member of the Office of Instruction as the Curriculum and Instructional Systems Specialist. He demonstrates the mission of the California Community College Board of Governors and the Chancellor's Office which is, "… to empower the community college through leadership, advocacy and support." Without José's expertise, students would not be adequately served. It is fundamental and the level of precision that Jose applies to the job is without question exemplary.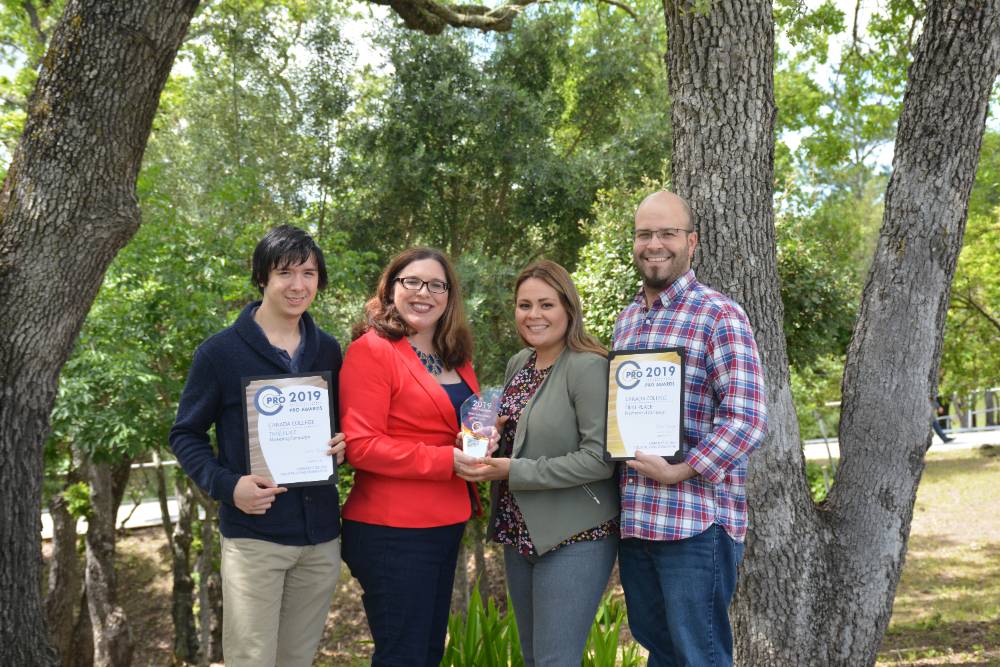 Cañada College Recognized Statewide for Marketing & Promotional Campaigns
The Cañada College Marketing & Outreach Department has been recognized by its peers, receiving two significant awards from the Community College Public Relations Organization (CCPRO) for its marketing, design and promotional work. Megan Rodriguez Antone, Jose Garcia, Mayra Arellano and Micha Ryan were recognized during CCPRO's 2019 conference, which was held in San Diego. CCPRO is the organization representing community college public relations professionals from across California.

The Cañada team brought home two honors, called PRO Awards. The awards include First Place in the Marketing Campaign category for Cañada's 50

th

Anniversary Celebration and Third Place in the Promotional Category for the Launch of the Campus Shuttle. Cañada College was one of 41 community colleges or districts to receive a PRO Award this year. Judges selected winners in almost 42 categories from 343 submissions.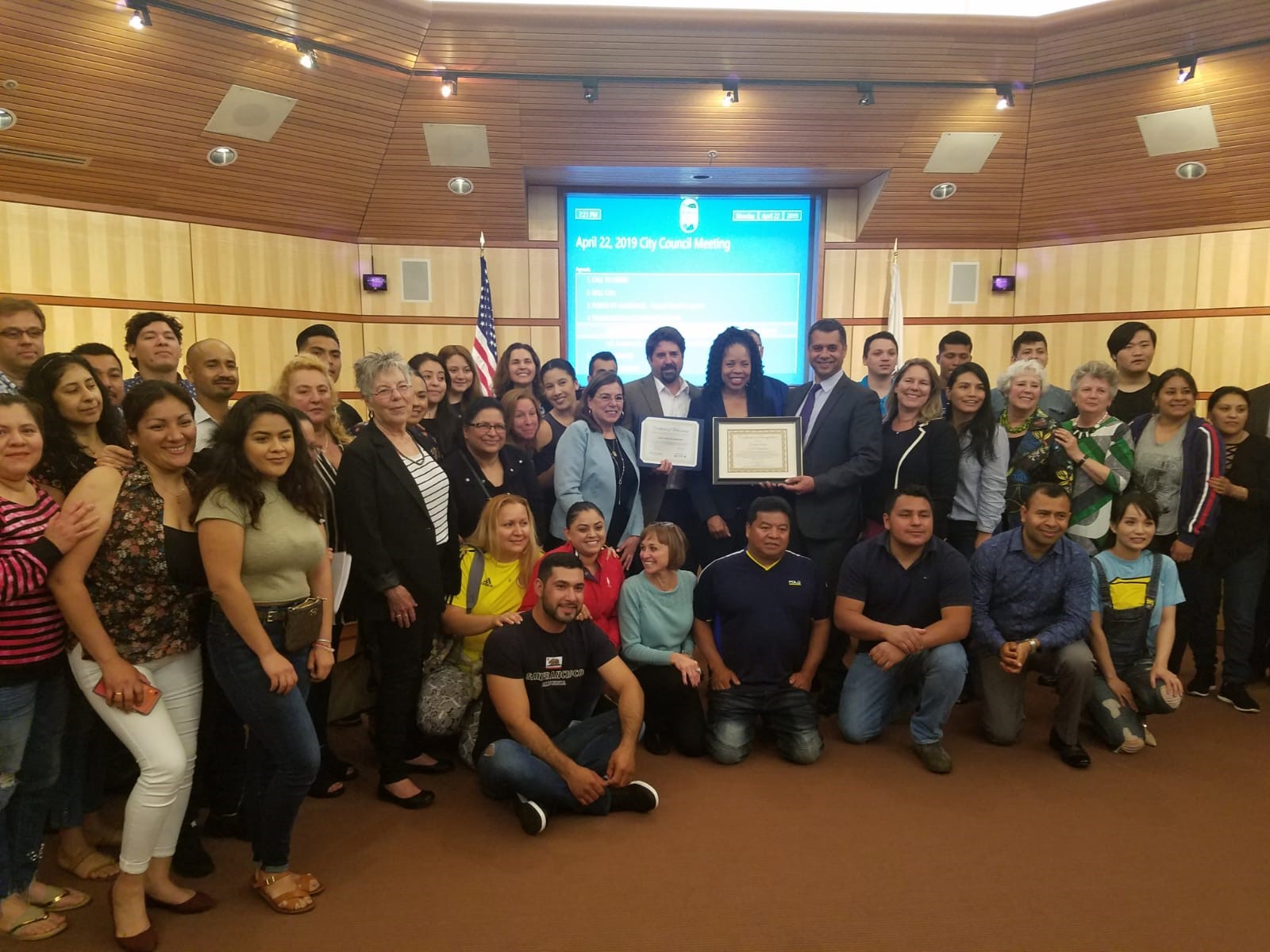 ESL Department Honored at City Council
Congratulations to the faculty and staff of Cañada's ESL (English as a Second Language) Department who were recognized at a Redwood City Council meeting with Redwood City Together's Welcoming Stars Award. The award is designated to those who lift up programs in Redwood City and North Fair Oaks and are committed to and excelling at creating a welcoming environment for all in our community, especially immigrants. The ESL Program at Cañada College started in the early 1970s to serve the immigrant population in the surrounding communities and the Cañada College Community Based English Tutoring Program (CBET) started in 2000 to teach ESL to parents of school age children. By providing ESL learning on campus and at various school sites in both Redwood City and North Fair Oaks, the Cañada College ESL Department prepares immigrants in the community to achieve their academic, vocational, and personal goals.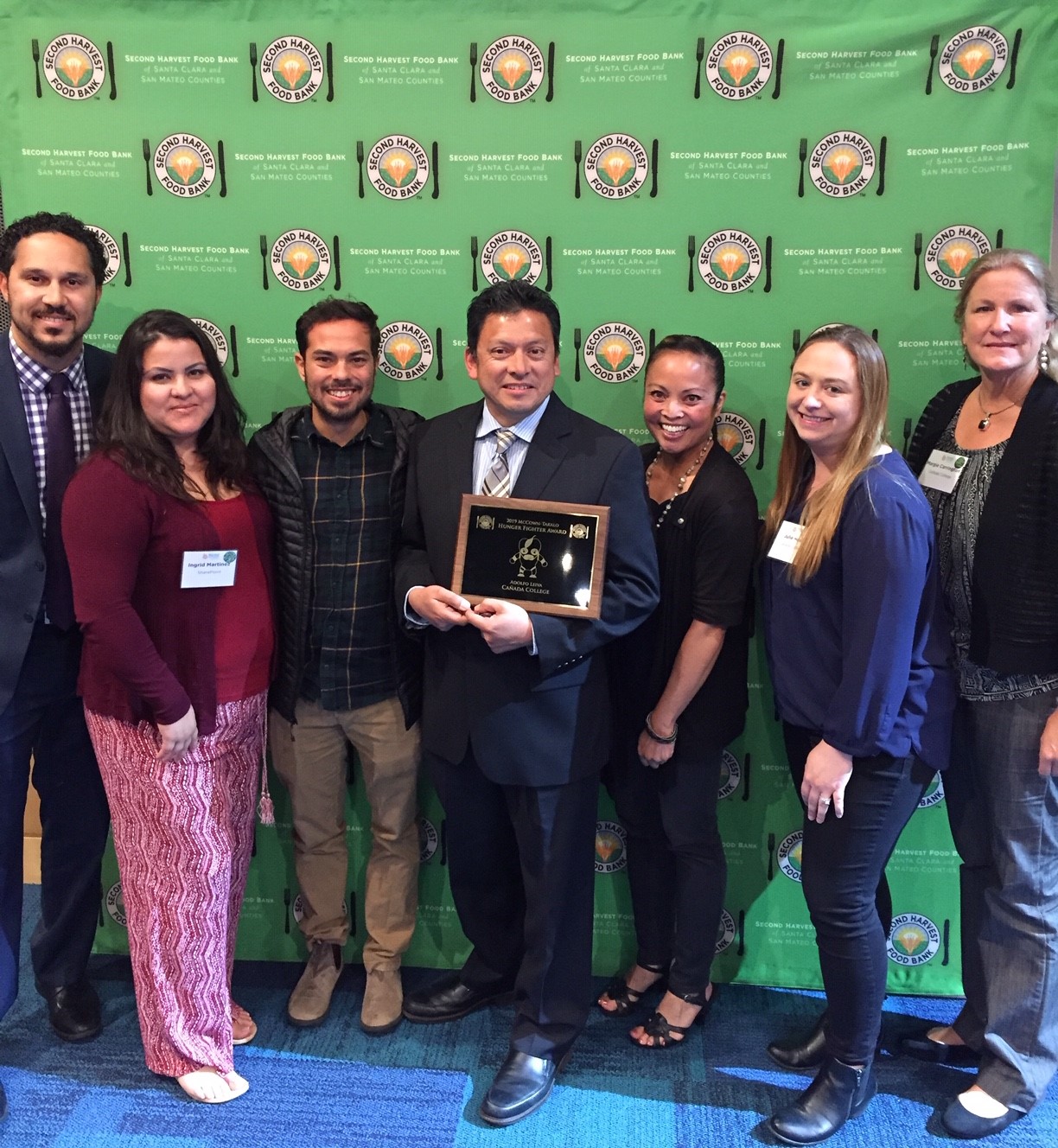 SparkPoint Director Recognized with Community Award
Cañada College SparkPoint Center Director, Adolfo Leiva, was recently recognized with the McCown-Takalo Hunger Hero Award at the Harvest for Knowledge Conference. This special award recognizes leaders who possess honesty, compassion, integrity. It also celebrates a community champion who serves as a spokesperson for the underserved, creative problem solver and always puts the needs of the client first. Adolfo was the driving force behind the launch of Cañada's new Community Market.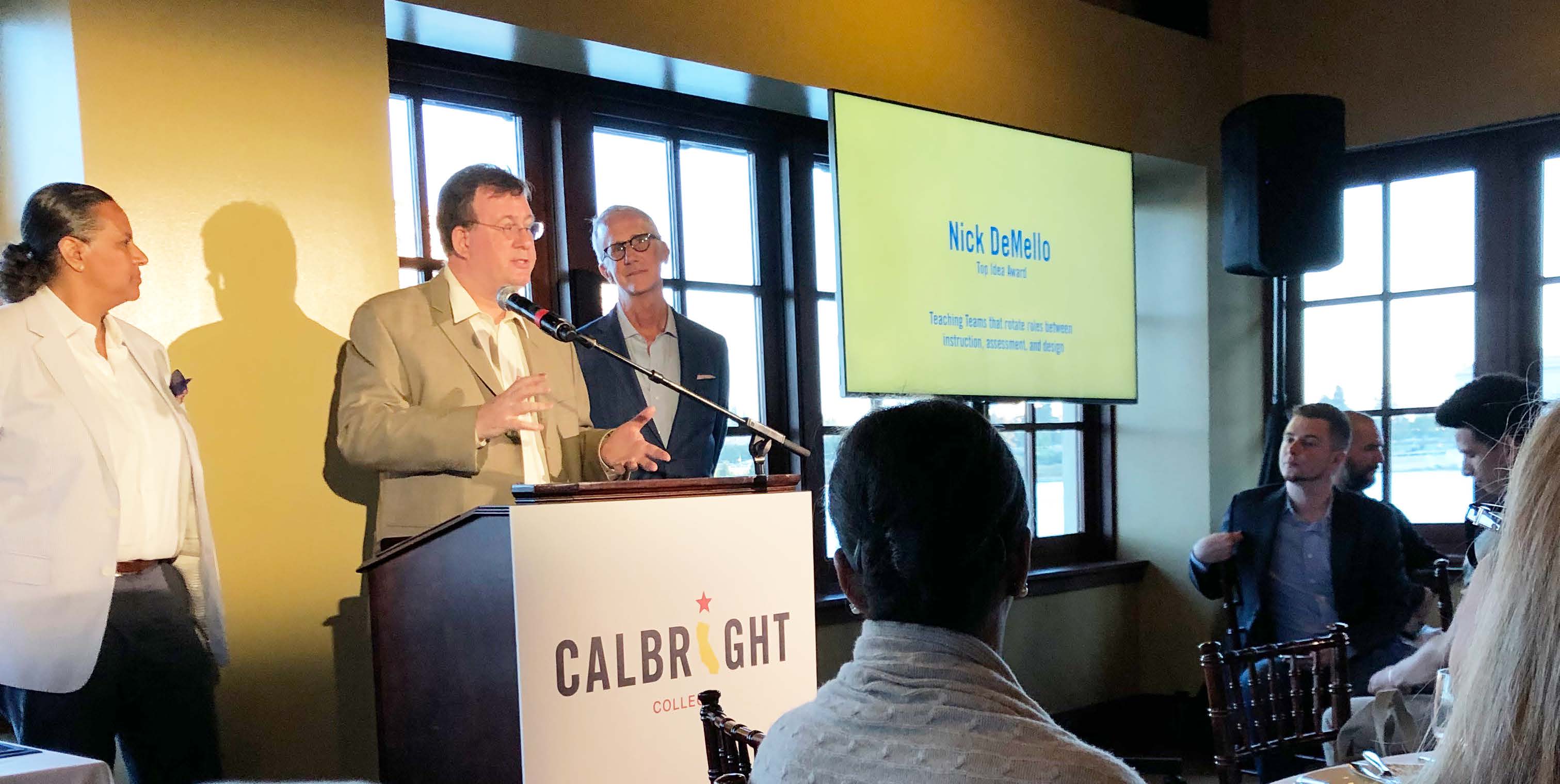 Faculty Member Recognized by State Chancellor's Office for Top Idea
Cañada College Chemistry adjunct faculty, Nick DeMello, entered an innovation challenge by the State Chancellor's Office to reimagine online learning in preparation for launching Calbright College, the all-online community college. Out of 180 proposals submitted, his was one of three "Top Ideas!" When describing his proposal, Professor DeMello detailed, "Faculty wear many hats. We are architects designing challenging, enlightening experiences. We are coaches promoting our disciplines and supporting the students choosing to master them. We are judges providing formative feedback to direct learning and summative assessment to credibly certify student accomplishments. These roles often conflict. It is hard to build the trust a coach needs if you are also the gatekeeper certifying student performance. It can cost momentum to pull back from enthusiastically driving learning, to find the creativity to update or build next week's exercises."
Professor DeMello's proposal was to explore teaching teams. He detailed, "Instead of a class of 30 having a single instructor, the larger classes of Calbright College would be owned by teams of three instructors. Each instructor would rotate through the roles of designer, instructor, and assessor. Teams would meet in virtual rooms weekly, to share observations and support each other. By rotating roles each semester, teaching would remain fresh, allow faculty to explore greater variety of classes and provide integrated support for the more challenging ones. New teams built annually from educators all across California would allow faculty more experienced or familiar with a class to take advantage of diverse perspectives. Mentorship, innovation sharing, collaboration and community would be a natural consequence of this new structure and the resulting workflow." Professor DeMello was recognized by the State Chancellor's Office at a reception on June 22, 2019.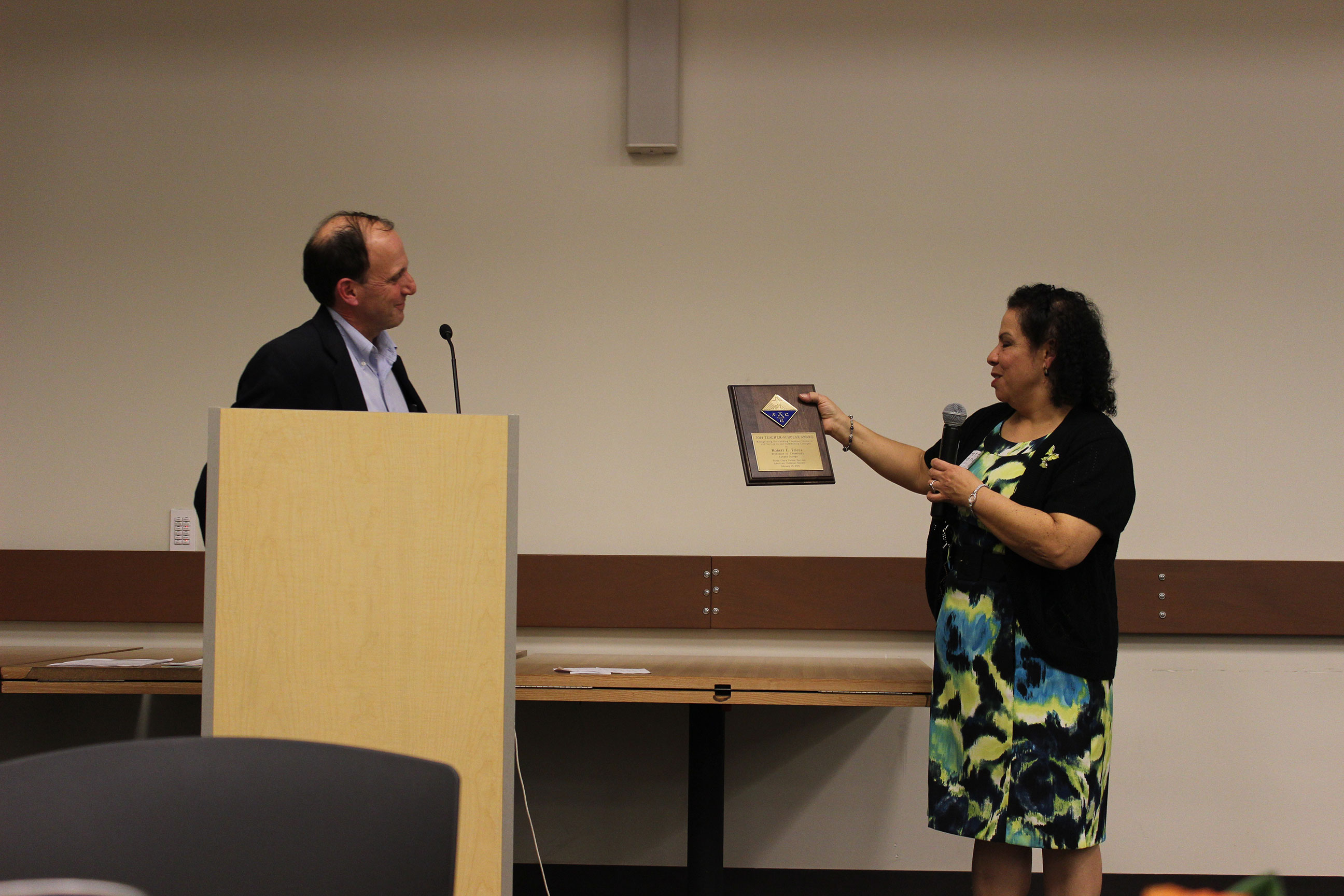 Tricca Recognized with Chemistry Award
Cañada College Chemistry Professor Robert Tricca was recently recognized by Santa Clara Valley American Chemical Society (ACS-SCV) with a Community College Teacher Scholar (CCTS) Award. The award recognizes the contributions of a community college chemistry teacher to science education. Tricca was chosen from one of the 13 community colleges in the ACS-SCV local area that includes five counties around San Jose, CA.
Professor Tricca received his Bachelor of Science in Chemistry from Boston College in 1980 and his Doctor of Philosophy in Physical Chemistry from Tufts University in 1985. He started his professional career in the chemical industry where he spent a significant number of years. He has held positions at Pfizer, Oral B/Gillette, Align Technology and Oral Health Technologies ranging from bench work to upper administration and co-founder. In 2008, Tricca decided to pursue his passion for teaching.His teaching career started as an adjunct faculty at Diablo Valley College, Laney College and Cañada College. His commitment and aptitude for the job were unquestionable and only two years later, Professor Tricca assumed his current full-time position at Cañada College. In a short period of time, Tricca has contributed to the advancement of chemical education by updating the general chemistry laboratory experiments to reflect modern relevant bench skills; establishing an ongoing undergraduate student research environment in collaboration with the National Resources Conservation Service and has continuously promoted students success by mentoring and exposing them to professional organizations and professional networking opportunities.
The sixth annual Teacher Scholar Award was presented to Professor Tricca at Mission College in Santa Clara. Tricca was nominated by his fellow Chemistry Professor Jeanette Medina. His nomination was reviewed by a separate selection committee. The award includes a $500 stipend for the award recipient, a plaque and additional $500 for the award recipient's department.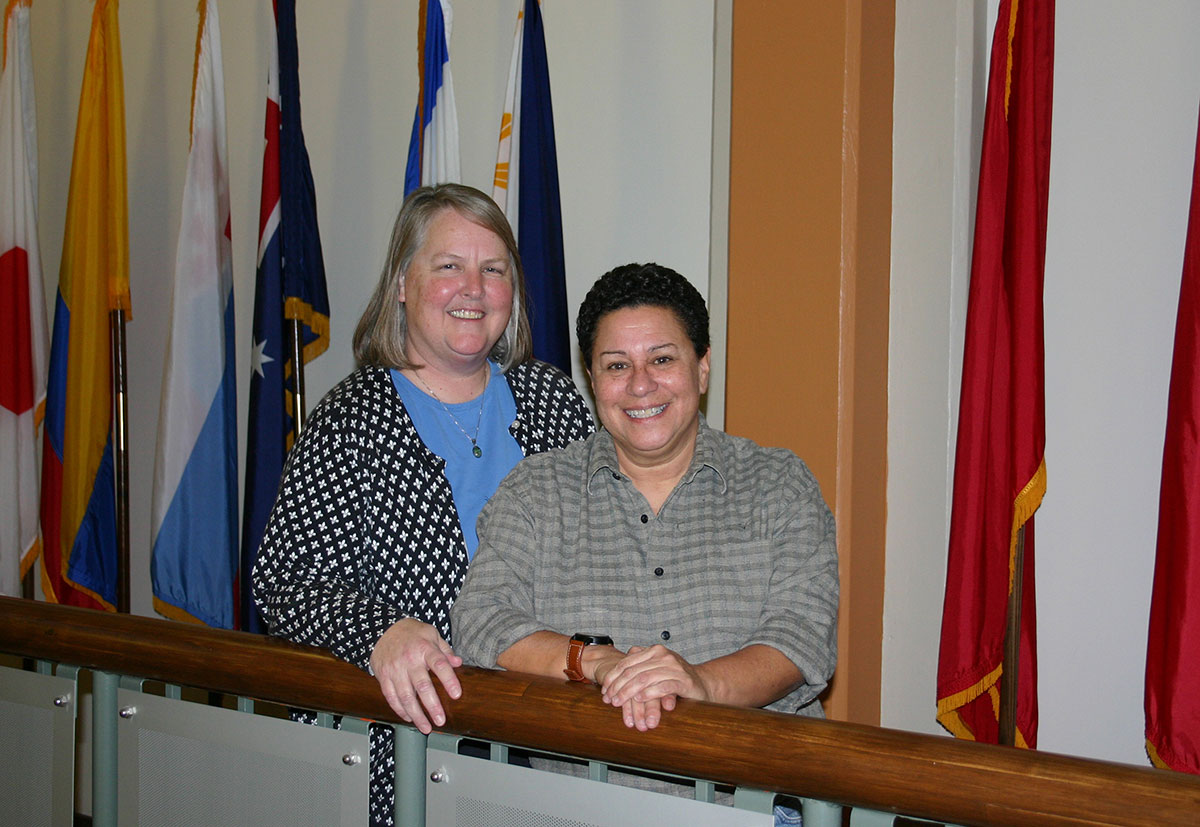 Lipe and Cabrera Honored
Each year, the League for Innovation in the Community College allows member colleges to nominate faculty and staff for the John and Suanne Roeuche Innovation Award. This year, college faculty and staff were invited to join in the process by nominating their colleagues.
Members of the President's Cabinet and the Presidents of the Academic and Classified Senates met to review the nominations and select awardees. This year's awards are being presented to Professors Cathy Lipe and Leonor Cabrera. In their nominations, their colleagues noted that Leonor and Cathy both brought a unique and innovative energy to their efforts and provided students with exceptional learning opportunities. They were both recognized for their unique approaches that have led to unparalleled success among STEM and Accounting program students. Cathy and Leonor have been invited to receive their awards at the League for Innovation annual conference this spring in Boston, Massachusetts.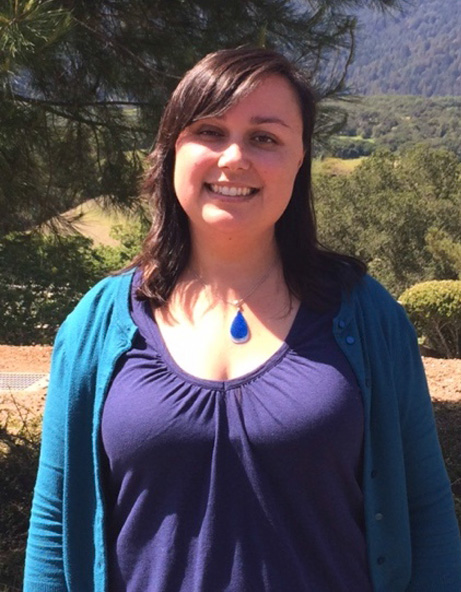 Upward Bound Shines Bright in the Community
Maria Huning, from Cañada's Upward Bound program, is this year's recipient of the Jobs for Youth Mary Paskevich Memorial Award. The Jobs for Youth program provides career workshops and job training to young people in San Mateo County. Mary Paskevich worked with Jobs for Youth for almost 20 years.
The Mary Paskevich Memorial Award is given every year to a person who has supported youth in achieving a better life. This year's recipient, Maria Huning, has empowered young people in San Mateo County to envision their futures and their communities improved through higher education. Maria has supported students from communities that are often times overlooked-NorthFair Oaks, East Palo Alto, and Half Moon Bay. She has served as theProgram Coordinator for TRIO Upward Bound for over 10 years preparing the next generation of college bound students and advocating for equity and access in higher education.
Being recognized for her work and receiving this award is a wonderful way to celebrate her 11-year anniversary at Cañada College. Maria will be recognized alongside four Cañada College Upward Bound students. Edgar Aguirre, Jennifer Castro, Jennifer Cuevas, and Lluvia Garnica will all be awarded scholarships for their civic engagement in Redwood City.
All of these students share with Maria their passion for helping young people in the community. Cañada College and TRIO will be well represented at the Jobs for Youth Breakfast on May 28 in Foster City.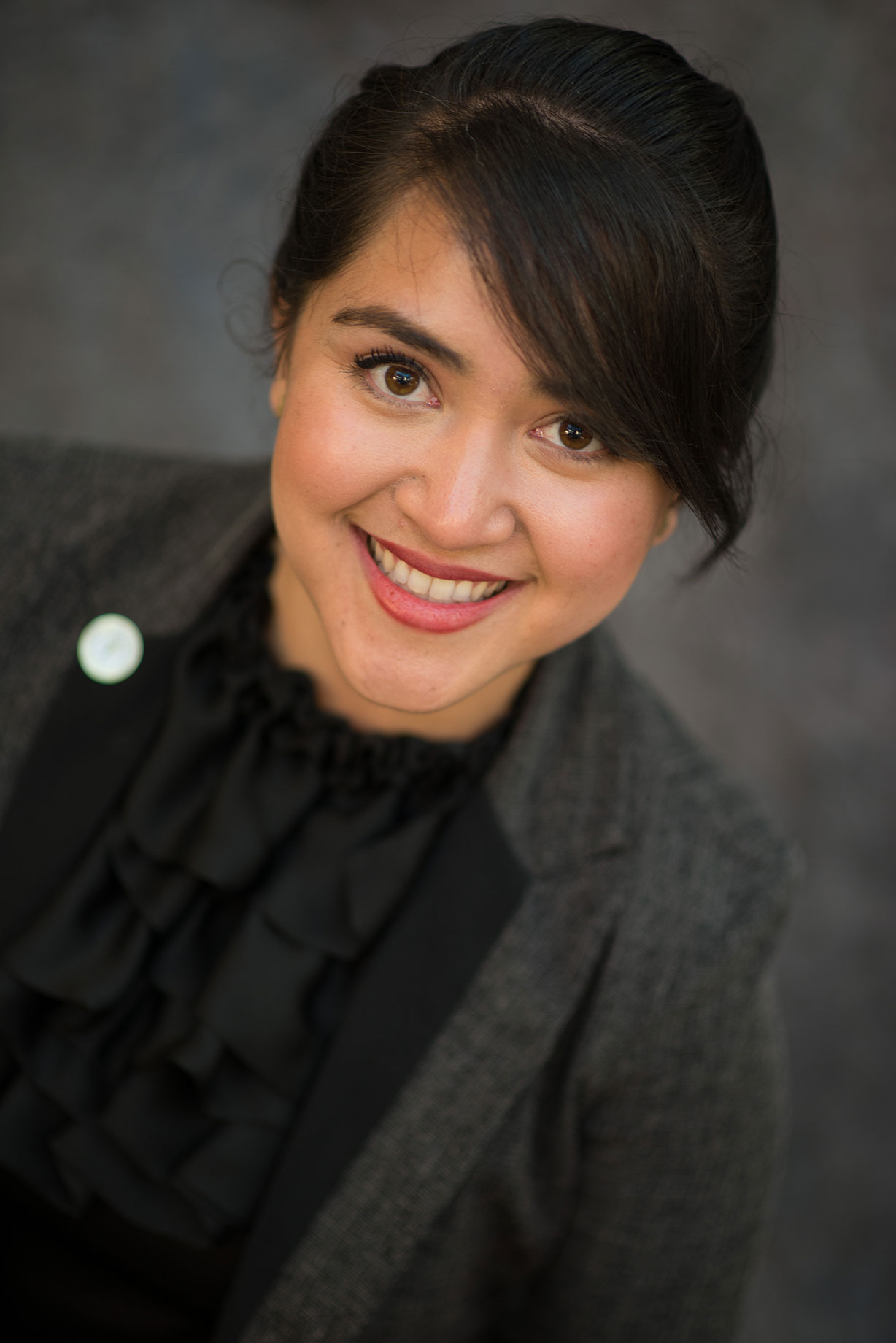 Maggi Elected President of CCCSAA
On May 2, after a statewide vote, Michiko "Misha" Maggi, Cañada's Student Life and Leadership Manager, won the election to serve as the President for the California Community College Student AffairsAssociation (CCCSAA). CCCSAA was established over 60 years ago as an organization to help StudentAffairs Professionals at the 112 Community Colleges across California with advocacy work, student development, and professional support and advancement.
Misha served this past year on the executive board as the Northern California Representative and chaired theNorthern California Drive-In Conference, co-chaired the statewide Professional Conference, and was part of the committee for the statewide Student Leadership Conference that hosted over 500 student leaders. Beginning inJune, Misha will serve a three-year term in office helping lead the Board of Directors for CCCSAA.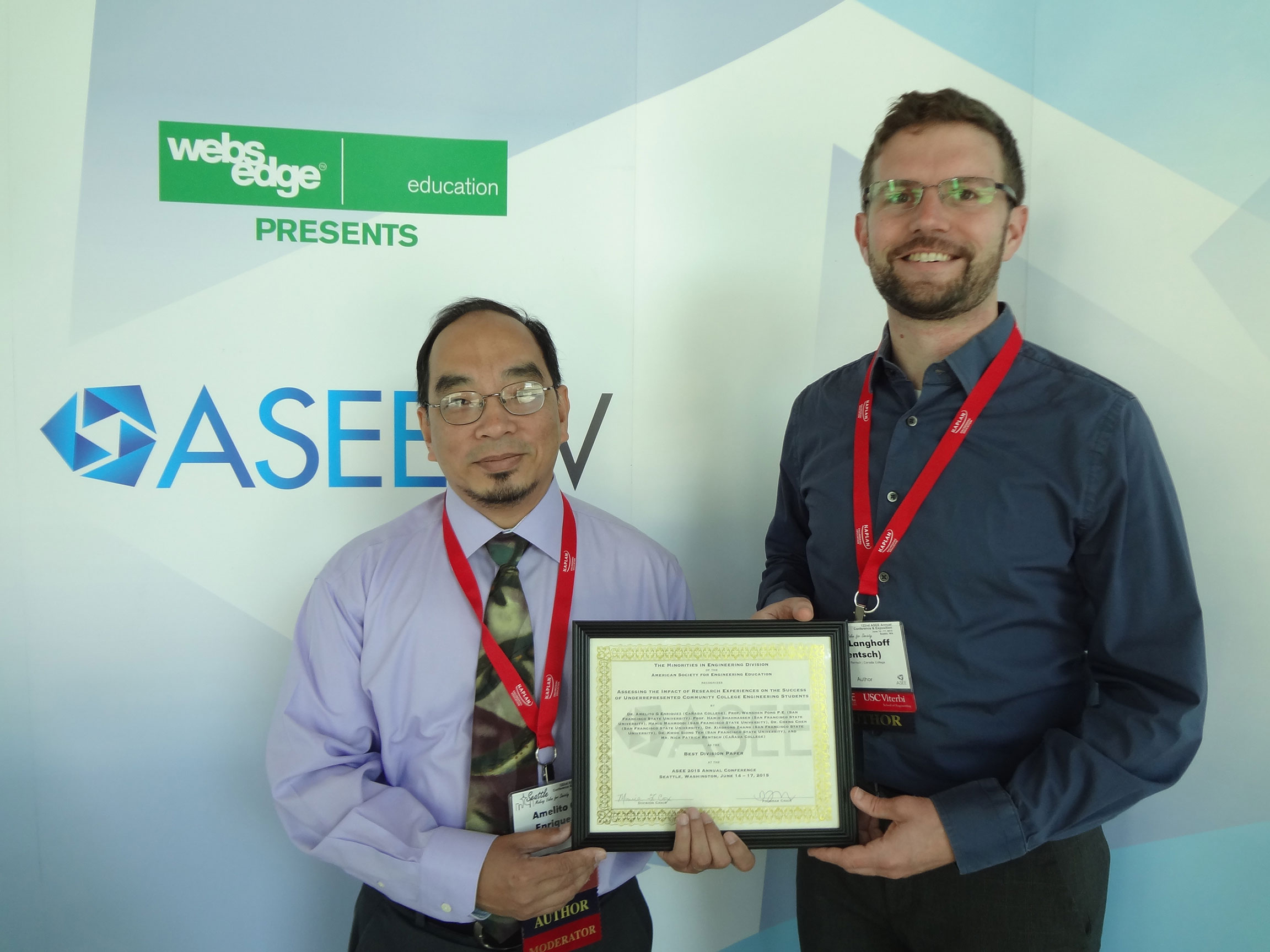 Cañada College at ASEE Conference in Seattle
This June 2015 at the Washington Convention Center in Seattle, Cañada College STEM Center programs were strongly represented at the 122nd American Society for Engineering Education (ASEE) annual conference. Engineering professors Amelito Enriquez and Nicholas Langhoff were presented the Best Paper Award from the Minorities in Engineering Division for their paper titled Assessing the Impact of Research Experiences on the Success of Underrepresented Community College Engineering Students. The paper highlights Cañada College's NASA-CIPAIR summer engineering research internship for engineering students. Enriquez and Langhoff were also elected to the Executive Board of the ASEE Two-Year College Division, with Enriquez as the Division Chair and Program Chair for the 2016 ASEE conference, and Langhoff as the Newsletter Editor/Webmaster.
Enriquez and Langhoff also presented the latest results of their National Science Foundation funded project on creating an online lower division engineering laboratory curriculum in a poster presentation titled Work In Progress: Creating Alternative Learning Strategies for Transfer Engineering Programs.
Many other Cañada College STEM programs were also represented this year at the conference. Math professor Ray Lapuz and professor Langhoff co-presented a paper on the college's STEM Institute – a summer outreach program to introduce local high school students to STEM careers. STEM Center Project Director Anna Camacho presented a paper on creating the college's STEM Center. Math professor Denise Hum and Ms. Camacho presented a paper on the college's Math Jam program, and STEM Center Program Services Coordinator and adjunct physics professor Courtney Hadsell presented a paper on the college's Physics Jam program. Congratulations to the STEM faculty and staff that presented and represented the success of Cañada College STEM programs at the ASEE 2015 Annual Conference.