Sarah Velichko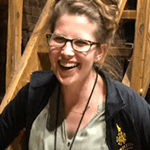 "Success occurs when opportunity meets preparation." That well-known quote has been attributed to everyone from ancient Roman philosopher Seneca to professional auto racer Bobby Unser. While its origin is uncertain, it's clear the saying applies to Sarah Velichko, a graduate of the Cañada College fashion department. Sarah is traveling with one of two U.S. tours of the Broadway musical mega-hit Hamilton and having the time of her life.
Members of the Cañada College Fashion Department (CFD) recently spoke with Sarah when she just arrived in Des Moines after finishing a run of the show in Las Vegas.
CFD: So, first of all, tell me what you do on Hamilton.
SV: As the Assistant Wardrobe Supervisor, my job is to teach the local wardrobe crew their backstage 'choreography' and educate them on how the costumes work so we can give the audience the same show every single night aesthetically. I'm also in charge of the sewing, costume repairs and alterations of new costumes sent to us from New York.
CFD: That's one of those jobs that's invisible to the audience but is extremely important, isn't it?
SV: Yes, I have to know the show backwards and forwards. I know where all my dressers should be for any change at any given point. We are dressing 20 actors for each show and have a total of 33 we need to maintain costumes for. I have to be extremely organized.
CFD: I can imagine! Isn't that stressful?
SV: The most important part of the job is to remain calm, because crazy stuff happens. We have several extremely fast costume changes [in the show].
CFD: What sort of help do you have to pull that off?
SV: The local wardrobe crew is made up of about 13 people—eight dressers, one laundry person, three pressers and one stitcher. That does not include the traveling crew, which is the Wardrobe Supervisor (my boss) and me (Assistant Wardrobe Supervisor). So we're looking at a team of 15 wardrobe crew members total in each city.
CFD: Wow, that's a lot of people! And that doesn't include the costume design team, does it?
SV: No, that's a whole separate group. The design team is based in New York City.
CFD: Going back for a minute, how did you end up doing this job?
SV: I was working on [the show] Wicked as an Assistant Wardrobe Supervisor Cover. When Hamilton started in San Francisco, I was hired as a dresser and stitcher. After working on it for six months, I knew the show and the costumes inside and out. That set me up to transition easily into a supervisor role when the second national tour opened in Seattle.
CFD: It sounds like you moved up the ranks pretty fast!
SV: I had the sewing and wardrobe supervisor skills. One of my favorite parts of this experience so far was when I was sent to New York to train for and set up the new tour. I got to meet Paul Tazewell, the costume designer, and spent countless hours with his design team so I would know how the costumes are supposed to look and work. I attended fittings for everything from ball gowns to boots.
CFD: What a fantastic experience! Is there a downside to this dream job?
SV: My home is on the road right now. I've gotten really good at cooking in a hotel room with just a microwave and a fridge. You need to have a certain temperament to live on the road. I'm super flexible and adaptable, so it works for me. Oh, and we usually work in the basement, where there are no windows. But I really can't complain. I'm playing dress-up for a living! I mean, come on!
CFD: Take us back even further. When were you a student at Cañada College and what did you study?
SV: I was a student at Cañada College between 2010-2012, but I didn't start out in the Fashion Department, I started in Occupational Therapy. That changed very quickly. I realized, 'I need to follow my heart.' Luckily, my parents were very supportive.
CFD: That is lucky! Did you earn a certificate?
SV: I earned an Associate's Degree in Theater Costuming and whatever other classes I could fit in. I loved the [fashion] department. I tell everybody about it.
CFD: What classes turned out to be most valuable to you?
SV: Pattern-making for sure! The costumes [in Hamilton] are made to look like 1700-1800s clothes but are built to stand up to intense dance movement. I know why they're built like they are [because of the Flat Pattern class]. Also Tailoring. The coats in the show are beautifully tailored. I have the skills to be able to take them apart and put them back together again if needed.
CFD: So all those hours in the Fashion Department Lab were worth it?
SV: Definitely. The foundations they teach [at Cañada] are amazing. And they allow you to be creative and make mistakes, try new things. I loved that. The creative thinking that inspired is invaluable now. I go in to work every day, and it never goes the way I think it's going to go.
CFD: You continued with your studies after you finished your certificate at Cañada College, didn't you?
SV: Yes, I studied costume design at San Francisco State for two more years.
CFD: That's terrific. What an accomplishment! And now you're adding even more experience to your resume.
SV: I'm extremely grateful for the skills I learned [in the Cañada College Fashion Department]. I put them to use every day. Sometimes I think, 'Ronda would be proud of me!'
CFD: No doubt about that, Sarah! We all are!