Samuel Trujillo
Samuel Alexandro Trujillo is a successful Cañada College student who aspires to receive a Bachelor's Degree in Computer Science. Samuel'scareer ambition is to be employed by a security company such as Lockheed Martin, as he is inspired by their innovation in aviation and space. Samuel is in the process of achieving his career goals by taking advantage of Cañada's incredible STEM Center. Samuel says, "I go to the STEM Center every day to work on homework. There I am surrounded by tutors and professors who I can ask for help whenever it's needed."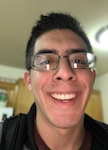 At the STEM Center, Samuel receives helpful advice from peer mentors regarding academic tutoring and scholastic opportunities. Samuel says, "Cañada helped me find amazing opportunities like my previous internship. I worked as a Software Intern which informed me about my field and revealed what the workforce is really like for my major. Learning from these real world experiences has better equipped me for my future career." When asked, What were the biggest challenges you faced during this endeavor? Samuel said, "From May to Thanksgiving Day of 2018, my mother and I became homeless. I was able to live with two families but my mom had to stay in a homeless shelter. Even though I was only 19-years-old, I was frustrated that I couldn't make anything better. The only thing that kept me going was my education. I knew that eventually my hard work in my studies would pay off." Throughout this difficult time in Samuel's life he always managed to maintain an optimistic perspective. Samuel exclaims, "The thing about eventually is that eventually always comes, you just have to be patient and push day by day to see that happen." Thankfully, Samuel has found a welcoming and loving community in Cañada's STEM Center. Samuel says, "From the students to the staff members, everyone cares. They all want to see you succeed and that is truly extraordinary." Samuel says, "You can go to the STEM Center for academic or personal assistance. Cañada has provided a space where we can all care for each other, even outside of school.
Samuel is involved in Cañada's STEM Center as a tutor and student, specializing in Computer Science tutoring. His goal in becoming a tutor was to better his understanding of the material, while simultaneously teaching other students about the exciting world of Computer Science. Samuel says, "The most rewarding aspect of being a tutor at a college you love is helping the same community who also helped you succeed." Samuel attributes his academic success to his mother and the two generous families who provided him a home when he was homeless. Samuel's mom works three jobs to give him the opportunity to focus on his education. He says it's because of her patience and love that he can succeed for the both of them in order to have a brighter future.
Samuel advises aspiring transfer students to start preparation for college applications the summer before fall semester begins. College applications are extremely time consuming, so utilizing free time in the summer will alleviate the heavy workload. Samuel also stresses the importance of taking mental breaks to prevent anxiety. That said, Samuel believes time management is essential, for "the sooner you get it done the more you can enjoy later." Most importantly Samuel says, "I always try to look at the brighter side of things. What has helped me the most was building and nurturing supportive relationships with friends and family." Cañada College is proud to create inviting spaces where students can unite to make the campus feel like home.