Daniela Sanchez-Sevilla
Daniela Sanchez-Sevilla is a Cañada College alumna and aspiring trial attorney. Daniela shares, "Time out was an integral part of my childhood, but not in the traditional sense. I vividly remember sitting tall at my kitchen table as the ominous lighting washed over my investigation face. After looking over my evidence I had decided. GUILTY! My dad drank my chocolate milk and he was irrefutably guilty. As Judge Judy taught me late at night on CBS, actions have consequences. I made the fair decision to punish my dad by making him take me to Chuck E Cheese's. Justice was undeniably served. At the ripe age of five, I fell in love with law and justice."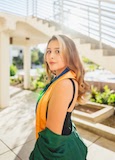 In high school, Daniela was able to harness her passion for the law as Varsity Debate captain. Daniela debated and garnered attention for important matters such as Climate Change Prevention, China's One-Child Policy, and Affirmative Action in work/school environments. At Cañada, Daniela continued her passion for political advocacy as an elected Associated Student Senator and Commissioner of Design and Marketing. Through this role, Daniela has promoted inclusive campus-wide events such as a Conversation with Dr. Cornel West, the DACA Protection Assembly, and the LGBTQ+ Allyship Talk. Daniela is also involved on campus as a Phi Theta Kappa Honor Society member, a Promise Scholar, and a San Mateo Community College District cheerleader. Daniela explains, "The Cañada opportunities and programs I have been involved in have further prepared me for the leadership roles I aim to obtain in the future. Cañada has continuously nurtured my passions for strength, equity, and progress in our government through captivating Political Science courses and considerate professors."
Daniela affirms the most rewarding experience these past two years has been her role as a student assistant in the Cañada Marketing Department. Through this role, Daniela has met various accomplished Cañada students/staff members and written stories about their unique academic journeys. Daniela has produced and directed informative videos about the Free Community Market, the English as a Second Language Program, and How to Register for Classes. Daniela has utilized her bilingual speaking skills to translate campus-wide newsletters and enrollment information from English to Spanish. Through this role, Daniela also had the privilege of being interviewed by Univision and the San Mateo Daily Journal about her experience as a Cañada student.
One of the biggest challenges Daniela faced during her academic journey was the community college stigma that loomed over her mind. Daniela shares, "Throughout high school my peers constantly invalidated community college and described it as a last resort however, due to financial hardship I knew it was my best option. My Cañada journey began my senior year of high school when my family informed me they would not be able to finance an overpriced four-year institution. As the Senior Class President of my graduating class, this news made my senior year a continuous series of hollow congratulations when I was repeatedly asked what university will I be attending." When Daniela did begin classes at Cañada the community college stigma from high school followed her and continued to distort her sense of self. Daniela began skipping class, ignoring schoolwork, and losing motivation to study. Because Daniela had absorbed the negative comments about community college being a place for unskilled people soon enough, she felt like she was. This became Daniela's skewed reality until she was contacted about the Cañada Promise Scholarship Program.
Daniela felt encouraged by the Cañada Promise Scholarship program and realized, "I have the right to be proud of my college and my educational goals. The doubt of individuals who feel the need to invalidate my journey is nothing but fuel for my success." The Promise Scholarship Program provides incoming, full-time students financial and academic support for two-three years. The program includes textbook assistance, food or transportation vouchers, dedicated counseling, and career support. The program is open to degree or certificate-seeking first-time college students who can commit to attending Cañada full-time (12 units minimum per semester, with 15 units highly encouraged).
Through her involvement in the Cañada Promise Scholars program, Daniela has had wonderful experiences with supportive counselors who have answered all of her questions in regards to transferring, credits, and career plans. An example of this is Daniela's Promise Scholarship counselor, Janette Linares, who assisted her in meticulously looking over her University of California application before submitting it. Daniela's counselor has also helped her by ensuring she was fulfilling all the requirements necessary for on-time graduation and transfer. Daniela exclaims, "The Cañada Promise Scholarship Program exudes selflessness and devotion in their support of students' futures. If not for Promise, I would have felt frustrated throughout this complicated transfer process. It was through their unequivocal guidance that I was able to graduate in two years Magna Cum Laude and earn an Associate's of Arts Degree in Interdisciplinary Studies with an Emphasis on Social Science and Behavioral Studies as well as an Associate's of Arts Transfer Degree in Political Science. I am also honored to share I have been accepted for fall transfer to the University of California Davis, the University of California Los Angeles, and my dream institution the University of California Berkeley. All of which can be attributed to my loyal Cañada family!"
Daniela advises students with similar goals to herself to, "Take advantage of the support available to you at Cañada. The tools for success are all there, what you need to decide is are you willing to work towards something greater. Learn from my experience and ignore the naysayer's voices, for their ultimate goal is to see you falter. I used to think school could only be a strict and rigid environment, but at Cañada it's the opposite. It's an uplifting environment that encourages individuality and self-expression. It is apparent that the staff does everything in their power to help you succeed which is a luxury not to be taken for granted. Community college is not and should never be considered a last resort, but rather an alternative option for hard-working, patient, and inspired individuals. Remember, your educational journey is valid. You will succeed. You are where you need to be, so focus on your studies and why not save money while you're at it too. Good luck!"