Miata Richards
Miata Richards was born in Pacifica, California and is the oldest of her parent's five daughters. Through the help of the financial aid programs offered by the SMCCCD district, she went to Skyline College to finish her general education. She then attended Cañada College from 2012-2014, graduating with an A.A. in 3D Videogame Art and Animation while making the Dean's List every semester in attendance. She transferred to San Jose State in 2015 where she is currently in her fourth year working on her five-year B.F.A in Animation/Illustration. She plans to intern at one of her top 3 favorite video game companies, and when she graduates she plans to work there.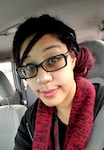 What initially made you decide to take Digital Art & Animation classes at Cañada College?
I knew I wanted to go into a field that would let me design characters and work on video games, but I didn't know where to start. I spent time at Skyline getting my general education classes out of the way before transferring over to Cañada College. I was told by one of my academic advisors about the program at Cañada College and started classes there as soon as I finished at Skyline.
Did you explore other Digital Art & Animation Programs in the area before taking classes at Cañada College?
Yes, but none of them really stuck. They were either hard to get to or too expensive. Going to a public school greatly increased my chances of success at doing something I dreamed of doing my whole life.
What did you enjoy the most about the Digital Art & Animation Program at Cañada College?
The diversity and depth of what is offered in the program. All the industry programs that can be learned about in courses at Cañada College. You can get a taste of what it is like to do so many different kinds of art and the different tools available to you to make it happen. It helps you figure out exactly how you want to use your artistic skills and figure out what you enjoy doing as it relates to working in any of the art fields out there. From greeting cards, to feature films, and the many different types of animation, illustration, design, and technical jobs there are.
How do you feel your courses in the Digital Art & Animation Program prepared you for transferring?
They helped tremendously. We learned about naming convention, meeting deadlines, Autodesk Maya, the Adobe Suite, design principles, how to build a portfolio, how to conduct an informational interview, write cover letters tailored to the position we would pursue and resumes. A lot of this information carries over to the beginning level classes in the Animation/Illustration program at SJSU.
What advice would you give to students looking into the Digital Art & Animation Program at Cañada College?
I'd say apply, make sure to take advantage of the financial aid available to you if you think it's not achievable, it really is worth it. Be smart about it and prepare to work hard. This must be something you love doing, but you must also be willing to learn. To not take critiques personally, but as something to learn from. This is an opportunity for you to gain instruction in the skills you need to be able to do the things you love doing for a living and learning to do it even better.
What inspires you?
I like many artists and mainly use Instagram to follow several. You can find people like Pascal Campion, Aaron Blaise, Loish, and Gdbee. I just like to scroll through and see what other people are creating and it inspires me to get creative too. It can be completely unrelated to the theme or style, but suddenly your brain just starts cooking up ideas and you close it and get drawing.