Tamarik Rabb
Choosing to attend community college after high school was a very tough decision for Tamarik Rabb because of how uncommon the path was for graduates at his private high school. After researching the public and private universities that he was accepted into as a high school senior, he chose not to attend because of the financial burden and the more advanced opportunities that were available at a community college. After much deliberation, he chose to attend Cañada College for its diverse the community from academic interests, extracurricular opportunities and student experiences.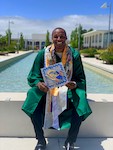 While at Cañada College Tamarik was involved in many campus wide organizations such as: Commissioner of Finance for Cañada College Student Senate, Vice President of Finance for Phi Theta Kappa Honor Society and Co-Founder/Secretary for the campus Black Student Union. In Fall 2019 Tamarik transferred to UC Berkeley's Haas School of Business as a Regents' Chancellor's Scholar where his education is fully funded! He is grateful that Cañada College prepared him for future academic and professional experiences.
When asked about his experience at Cañada College Tamarik shared, "In my time at Cañada, I had the amazing opportunity to grow as a leader while being an ASCC Senator and on the leadership teams for both the Black Student Union and Phi Theta Kappa. The skills I gained at Cañada College have really impacted my ability to lead and make an impact in my organizations at the Haas School of Business."