Elise McClure
Elise McClure was a San Francisco resident who attended Cañada College between 2012 - 2014. She was working towards her Associate's degree in Business Administration. While she was a full-time student at Cañada College, she was also working full-time as a manager at a restaurant in San Francisco's Mission district, and had a part time job on top of that. In 2015 she relocated to Melbourne, Florida, with her partner Ryan Verzaal (who also attended Cañada College) and they opened up Backwater. Their restaurant has become the area's premiere brunch restaurant, and they are currently exploring opening up a second location. Elise McClure has worked very hard and accomplished a lot in a short amount of time since she was a student at Cañada College.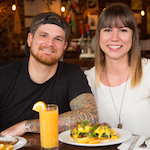 You became a small business owner and opened Backwater after attending Cañada College, tell us about your restaurant.
After spending quite some time in California we became homesick for our southern roots. I love comfort food like pulled pork, cornbread, and fried green tomatoes. It only seemed fitting that we would serve our favorite foods that we missed for so long. Backwater, like its namesake, is meant to be a place where one can relax away from the hustle and bustle of everyday life. Where you can sit back and sip on some sweet tea. We offer eight tables with built in griddles where you and the family can get creative with DIY pancakes. We couldn't forget our love for the vegetarian and vegan friendly restaurants in San Francisco, so we made sure to offer the majority of the menu with a vegan option.
What has been the most rewarding thing about being your own boss and having your own small business?
The feeling! I don't really know how to put it in words, but on a daily basis I find myself over a hot griddle table cleaning away, and I just have this moment of peace when I realize that I'm cleaning this table because I have a two page waitlist! It is just so surreal. I usually have to hold back getting teary eyed when I think about how lucky we are. I just can't even believe that this many people want to eat at our restaurant! I just say in my head "We're doing it!!" Overall it is just nuts how much popularity and success we have gained in such a short period of time. We already have regulars!!! It's rewarding to know we did it on our own!
What classes did you take while you were a student at Cañada College?
I took the core requirements for an Associate's degree in Business Administration.
Were any of your classes online? Did that make it easier for you to take classes while working full time?
All of my classes were either online or hybrid, actually. Having that kind of flexibility made a world of difference. I was able to keep my full time job and live in the city. I even picked up two part time jobs. The hybrid classes were great for the subjects I needed a little extra help with.
You lived in San Francisco while attending Cañada College, why did you take classes at Cañada College rather than somewhere else in the Bay Area?
I was luckily enough to have met a former Cañada College student who guided me to the school. They could not say enough about how great their experience was. The drive is easy and beautiful. It was nice to get out of the city and focus.
What advice would you give students considering taking classes at Cañada College?
To go for it! I have attended a few other community colleges when I lived in Florida the first time around, and nothing compares to the experience I had at Cañada College. The teachers were so supportive, and always there for you when you needed them. The counselors made life a breeze, and their availability was something I had never encountered at other schools. Cañada College wants you to succeed, they want you to graduate, and be the best student possible. They do not shy away from doing whatever it takes to provide what is needed for their students.