Karine Martinez
In the school year of 2010-2011, Karin Martinez decided to take a bold step and leave Menlo-Atherton High School to join the Middle College Program at Cañada College. In fall of 2012, she began the journey of pursuing her Associate's Degree in Medical Assisting. She graduated from the program is employed at her my dream job location, Stanford Health Care.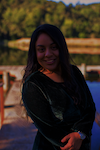 What initially made you decide to take Medical Assisting classes at Cañada College?
Initially, I did not know I would end up choosing healthcare as my career; however, as I completed each class, I became more intrigued and I became completely drawn to the medical field.
Did you explore other Medical Assisting Programs in the area before taking classes at Cañada College
Having been on the campus for 2 years, I was very familiar with campus grounds and all the resources that were available to me, so I did not pursue seeking or exploring other options.
What did you enjoy the most about the Medical Assisting Program at Cañada College?
I absolutely loved all the hands-on courses, and the real-life scenario questions we would be challenged with. There were always questions that impelled us, students, to act as if we were already working in the medical field or as if we were working in an actual health care setting.
How do you feel your courses in the Medical Assisting program prepared you for your career?
The Medical Assisting Program really prepared me for my job as a healthcare professional. The program touches all topics from insurance, administrative roles, administrative techniques, and even clinical procedures.
What advice would you give to students currently in the Medical Assisting program at Cañada College?
"Be patient and go through the process" is what comes to mind for advice. At times, it may feel like it is overwhelming, or your classmates, colleagues, perhaps even your instructors may feel like a negative piece of the picture, but it will build you for what is to come. Be sure to ask all the questions you have and keep climbing after every fall or failure.
What do you love the most about working in the healthcare industry?
I absolutely love working with people and helping people; moreover, healthcare really enables me to fulfill that pleasure. At times, the work can feel laborious, demanding, and difficult, but a patient's smile and thank you makes it all worth it for me.