Madison MacLeod
Madison MacLeod is a Cañada College alumni and Doctor of Jurisprudence candidate of Golden Gate University's School of Law Class of 2023. At Cañada, Madison was supported as she decided to return to school and finish her degree. Madison shares, "I went to Cañada part-time while working full-time as a veterinary technician. Cañada undeniably helped me build the credits and grades necessary to transfer to the University of California, Santa Cruz." Cañada guided Madison during her college transfer by offering various informative transfer workshops. Madison was also assigned a Bridge to Opportunities (BTO) Cañada peer-mentor who planned to transfer to the same target school as her.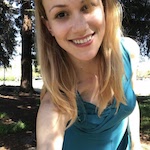 The Cañada College Bridge to Opportunities (BTO) Peer Mentorship Program provides support to students throughout their college experience beginning with their transition into their first year in college up until their successful transfer into a 4-year university. The goal of the program is to foster academic excellence through peer-to-peer support. Peer mentors support their student mentees by encouraging them to embrace college life and increase their knowledge about resources that will help them succeed. Madison says, "This mentorship relationship was encouraging because I felt like I had extra support during my college journey. For example, my mentor and I drove to our college interview together which was so comforting, as it reduced my anxiety during what would have been an otherwise high-pressure situation."
Madison's career ambition is to work for a public interest law firm that focuses on environmental policy. Madison wants to raise awareness about the immediate and long-term effects of climate change, pollution, environmental racism, and water scarcity. When asked, How did you achieve your career goals? Madison said, "It took a decade for me to figure out what I wanted to do. I stumbled into Environmental Science while at Cañada and immediately the course sparked my interest. I knew that Environmental Science was something I was passionate about but I wasn't necessarily aware of how to make a career out of it. After all, I was going to school for a degree in History. That said, as I learned more about the environment I became more motivated to get involved." Madison became more involved in her community by creating an Instagram page that promoted sustainability. That platform quickly grew into a website and then a YouTube channel where she detailed how to live more harmoniously with the Earth.
Madison shares, "There were times that I felt tired, frustrated, or like I wasn't doing enough for the environment, but it was the cumulative effect of these feelings that pushed me to go further with my studies. Unfortunately, I recognized that even if we all, as a community, made improvements to our lifestyles, it would not be enough to mitigate climate change unless we strengthen existing environmental laws and create new policies." Madison realized she had to learn the law, so her next career goal became attending law school. Her following academic steps included studying for the Law School Admission Test (LSAT), taking the LSAT, and applying to three law schools. Today, Madison is in her first year of law school, or (1L), and she is in the process of beginning her first externship working with water policy. An externship is an experiential learning opportunity, similar to internships, provided by partnerships between educational institutions and employers to give students practical experiences in their field of study.
One of the biggest challenges Madison faced during her academic endeavors include not having any lawyers in her family. This proved to be a challenge, as not having a support network is helpful for all graduate school students. Madison is also a first-generation college student and tragically lost her mom to cancer in 2013. Madison shares, "My mom was my coach, mentor, and best friend. Before she died, I promised her I would finish my degree, and that was the biggest motivator for my goals to succeed. Surprisingly, having lost my mother was the common factor I shared with another law student who has now become one of my best friends. Thankfully, law schools also have mentoring programs that are supportive, so even if you don't have an extensive support network at home, you can definitely find one at school."
Madison attributes her success to Cañada College Professor Susan Mahoney, who taught her the concept of "zero waste" and opened her eyes to sustainability. Professor Mahoney's passion for science, nature, and student success was palpable in every lecture. Madison exclaims, "If not for Professor Mahoney's class, I would not be in law school today." Madison also attributes her success to Cañada College Professor David Hamilton, "who took the scary out of the debate. The skills I learned in his course are ones I now use in mock trial litigation. The confidence I gained from his debate course has carried me over these last three years." Madison also attributes her success to Cañada College Professor Michael Hoffman, who showed her that "After spending twenty-five years telling myself I was not, in fact, I am a math person. It was our very first class where he debunked that myth and it stuck with me. In that course, I learned that it's okay to yell at your computer and come close to smashing it because you can't get that one multiple choice question right. That's part of the process and it means you're learning."

Madison advises students with similar goals to herself to, "not let anyone talk you out of your goal to pursue a career in the environment or any other area of law. I knew close to nothing about the law before going to law school and had no experience working in a law setting. My knowledge of litigation was centralized around episodes of Law & Order and Ally McBeal. That's okay. That's what law school is for." Madison also stresses that if law school is your goal, "You undoubtedly must work hard, and that means now. Your undergraduate grades matter, as does your LSAT score. These two elements will determine what school you go to and the scholarship(s) you get. If you know what area of law you want to go into, involve yourself in activities that showcase that interest. Law school is intimidating, but remember it is designed to be challenging yet manageable. Work hard, take breaks, eat well, and cultivate a healthy sleeping schedule. Stay positive and don't let anyone deter you from your dreams. You got this!"