Matthew Lee
Matthew Lee is a remarkable Cañada College alumni who is proud to serve his alma mater as the College's Interim Dean of Kinesiology, Athletics, and Dance. Matt earned his Associate of Arts degree at Cañada College in addition to a Bachelor of Arts in Sociology at the University of California, Los Angeles (UCLA) and Master of Science in Sports Business, with a concentration in Professional and Intercollegiate Operations, at New York University. As a two-year basketball letter winner for the Colts, Matt transferred to UCLA where he helped clinch back-to-back Pac-10 Championships and back-to-back Final Four NCAA appearances. Matt also played basketball professionally in Manila, Philippines prior to coming back to Cañada College.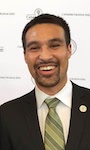 In his professional career at Cañada College, Matt started as a Division Assistant. In the following years, he served as Program Supervisor, Program Director, and most recently Interim Athletic Director. Matt also led Cañada College to the Conference Finals of the 2018-2019 Men's Basketball Season as Head Coach ending with a 21-8 record.
Matt's work on behalf of Cañada College student-athletes extends beyond the footprint of campus. He was a founding member and on the Executive Board for the Association of California Community College Eligibility Specialists. As Chair of the Cañada Athletic Hall of Fame Committee, Matt ensures the history of Cañada Athletics is not forgotten. Previously, Matt worked as Athletic Director in the San Francisco Unified School District at Wallenberg High School. He also worked in the Team Operations Department for the NBA's Brooklyn Nets, Madison Square Garden Company's Sponsorship Sales, and at Iona College in Marketing and Team Sales.
When asked How did Cañada support you during your college transfer? Matt replied, "Cañada inspired me. My former professors (now colleagues), coaches, and teammates all played a role in my ability to grow academically and athletically as an individual. If anyone were to analyze my transcript, they would see I was certainly not the greatest of students, but Cañada's uplifting environment motivated me and ensured my success." This same environment also motivated Matt to pursue employment at Cañada College. Matt affirms, "My motivation is to directly impact the next generation of student-athletes and coaches in their pursuit of success at Cañada College. Regardless of any employment title, my goal is to work alongside my colleagues to strategize and execute better opportunities for all Cañada students. I hope to establish Cañada as the single best option for any student, local or outside the contiguous district, as the College that will best help them achieve a brighter future."
During Matt's academic and career endeavors he faced challenging moments such as, "Entering the locker room and seeing my players' tears after a loss that had just ended our season. As the Head Men's Basketball Coach at Cañada, it was important (and challenging) that I explain to the player's that what felt like a failure to them at the moment, was simply not true. In my eyes, they exuded maturity, teamwork, and discipline that will continue to serve them further in life than any singular winning game could." Matt attributes his success to Former Head Basketball Coach and Hall of Famer Lamont Quattlebaum and Former Athletic Director Mike Garcia, for believing in an 18 year-old as the first recruit for the Men's Basketball program after being placed on hiatus since the early 2000's. Matt advises students with similar goals to himself, "Invest in yourself because the opportunity is never lost, it's just given to someone else."