Thein Kim Le
The NASA Community College Aerospace Scholars (NCAS) aims to build a diverse future STEM workforce by providing community college students the opportunity to work under NASA employees who serve as program mentors. This opportunity opens doors for community college students seeking a STEM degree. NASA has reached out to community colleges in the area in order to provide students with opportunities for successful future careers.
Cañada College Physics major Thien Kim Le took advantage of this opportunity when she signed up for the NCAS program. She is interested in space so participating in the program is very fitting for her. Before participating in the program, she traveled to Air Force bases to view launches of rockets. She has studied space throughout her school career and was very honored to get the opportunity to work with people at NASA. Thien Kim is grateful to Professor Susan Mahoney who mentioned the program to her and also wrote a recommendation letter for her. She was accepted into the program and from there she conducted her own research and work with a team on their mock mission.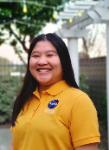 Thien Kim described the two main parts of the program that were split up into "missions." The first mission, completed individually, was a research paper using information from NASA about what they are currently doing on missions, a mission that they have gone on, and what they are planning for the future. This research paper is graded along with other quizzes and once passed, a student goes on a mission to work with a team to design a mock mission. These teams are then separated into cohorts that compete with one another. It can be any kind of NASA mission from traveling to the Moon, to Mars, a rover mission, a habitat mission and more. Students learn to be very selective and must work within a budget to make sure that their mission is possible.
For the second mission, Thien Kim shared that all members of the team had to equally put in a large amount of work. There were specific roles for everyone on the team, ranging from mission process to public relations. This part of the program was a full seven days, very intense and fast paced. However, Thien Kim shared that it was the most memorable part of the entire program. With this, her team successfully won in their cohort and the judges really enjoyed their work.
Students who have been in the program recommend participating if you are a STEM major. The program provides workshops about internships and other opportunities at NASA, connects students with NASA employees, and provides networking opportunities with others who have the same interest in space.
Thien Kim has applied to six internships at NASA that range from a NASA History Officer to Career Aspiration internships. She is very proud of her work and wants to seize the opportunity to climb further ahead with NASA. She hopes to secure a career in the space industry and is excited about where her career will go next.