Kasea Lamson
Kasea Lamson is a hardworking Cañada Middle College High School student on the pathway to achieve her scholastic goals. Kasea's career ambition is to work as a children's therapist. Middle College High School is a nontraditional high school collaboration between Cañada College and the Sequoia Union High School District. Through this unique alternative high school program, students have the opportunity to explore new challenges that are not available in a traditional high school where they complete the requirements for high school graduation while enrolled in college courses. All courses are held at Cañada College and students in the Middle College program quickly discover the joy and benefits of self-directed learning in a stimulating and diverse college atmosphere.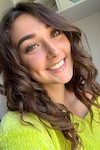 In pursuing this endeavor, Kasea plans to dedicate and immerse herself in her studies. She believes, "Middle College is amazing. I especially admire how the teachers designate individual time to each student to ensure all of us excel academically." She enjoys experiencing Middle College herself and with former high school students, as it has fostered close bonds at Cañada College. During this journey, Cañada has supported Kasea through the counselors in the Disability Resource Center and the aid of Student Services. Kasea exclaims, "Cañada College has been extremely helpful through my transition in becoming a college student." She also appreciates the support of the Library and the understanding faculty members. Kasea gushes, "Cañada exudes kindness, and even the people working at The Grove Cafe always have a smile."
Kasea is involved at Cañada College through the Honors Transfer Program and the College's chapter of the honors society: Phi Theta Kappa/Beta Zeta Nu. She attributes her academic success to great teachers who motivated her not to give up on school or herself. She believes a person's approach mitigates the understanding of the material. Kasea says, "I have been overjoyed with all of the amazing educators I've had at Cañada College. I am excited to be staying an additional year after I graduate from high school this Spring."
Kasea advises aspiring Middle College High School students to be prepared to erase any preconceived notions about college course difficulty." Kasea says, "community college causes a fresh outlook on life. The best feeling is pouring energy into college work and seeing the sentiment become actualized through successful grades." Most importantly, Kasea advises students to explore their options with counselors because finding your true interests is essential in long fruitful careers.