Elizabeth Jonas
Elizabeth Jonas was born in the Bay Area, and raised in Seattle. She graduated from Western Washington University with undergraduate degrees in History, as well as in Modern and Classical French Language in 2006. In 2011 she returned to the Bay Area, seeking and achieving several degrees from the Cañada Fashion Department, including Technical Design and Merchandising. While in school Elizabeth worked for J. Crew as a stylist, at Louis Vuitton Corporate, and was then hired at local couture and corsetry house Dark Garden as a Production Stitcher and Cutter. She is now the Lead Couture Stitcher and Cutter for the Maison.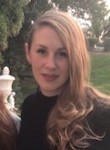 What did you enjoy the most about the Fashion Design and Merchandising Program at Cañada College?
I truly enjoyed every minute spent in the Cañada College Fashion Design and Merchandising Program, evidenced by the fact that I took nearly every course offered!
What advice would you give to students currently interested in the Fashion Design and Merchandising Program at Cañada College?
Be prepared to WORK, but know you will have access to extensive knowledge, a great support system, and will make valuable connections through the program. The instructors are so knowledgeable and have real-life experience; listen to their advice and ask questions!
Sample, keep files, and continue to annotate as you learn techniques and skills. Your personal archive will become an endlessly useful resource as you continue to gain, modify, and apply techniques for construction and methods of design. I saved much of my sample-work and notes from Cañada, and refer to them often, and continue to add samples as I learn and develop new techniques and processes at work.
And on a similar note, keep a photographic or physical record of your finished work and progress. Employers will want to see your learning curve and ability to be trained. No matter how much schooling you have, the majority of skill development, and understanding of the industry will come after graduation, on the job. Trainability is key.
And ALWAYS mock up your garments –sometimes more than once- before cutting into final fabric!
What advice would you give to students currently interested in a career in the Fashion Industry?
To be successful in this field, one has to not only be skilled and ambitious, but also filled with passion for the industry, and the work itself. A career in fashion requires time and devotion.
Take every reasonable opportunity that comes your way. There is no way to map out an entire career path at the get-go, so you may as well learn and experience as much of the industry as possible while you develop. With the variety of jobs in the industry, you will find your aesthetic and niche by trying new things and by challenging yourself. I have worked retail, client relations, merchandising, social media, copywriting, reporting, design, and production jobs within the industry, and refer to the knowledge, experience, and connections garnered from this 'cross-training' daily.
What do you love the most about working in your industry?
I love the rabbit hole of garment-making. This industry affords unlimited education, inspiration, and entertainment for a creative. I find myself continually learning, changing, and adapting for different clients, textiles, and designers, all the while finding some new inspiration for the next project.
Working in this industry has also provided me with a deeper appreciation for how important clothing can be to a person. We are not saving lives, however watching a person put on a well-fitting garment, a properly supportive undergarment, or a much anticipated couture wedding ensemble for the first time is life changing for the wearer as well as the maker. Having the opportunity to make clothes –and corsets- for everyday living, and for the most-important days of peoples lives is truly extraordinary.
What is next in your career?
I'm going to continue designing and making on my own, and with the incredible Dark Garden team!