Rose Hamzelue
Rose Hamzelue was born and raised in San Mateo, California. Being half-Salvadorian and half-Palestinian, she speaks Spanish fluently and has a goal to learn Arabic as well. Rose is a determined, thoughtful, and patient individual who thoroughly enjoys learning new things and being able to teach and guide others. During her time at Cañada College, she was able to be part of the Dean's list for four consecutive semesters. She received an Associate's Degree in Medical Assisting. Rose currently works as a Clinical and Administrative Medical Assistant at Internal Medicine Associates in San Mateo.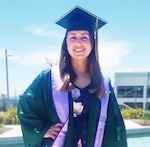 What did you enjoy the most about the Medical Assisting Program at Cañada College?
I enjoyed every class throughout the program, especially the hands-on courses. We were taught what it was like to work in a medical office rooming patients, giving injections and drawing blood. I found that to be so fascinating to be part of.
What advice would you give to students currently in the Medical Assisting program at Cañada College?
My advice to current students would be to listen carefully to instructions given. There are no shortcuts to be taken so always take your time in everything you do and do your best!
What do you love the most about working in the healthcare industry?
I love being able to speak with patients every day, whether it be on the phone or in person. Being able to be play a huge role in their health is a great responsibility so I do my best every day and treat every patient with respect as they deserve the best healthcare possible. I also thoroughly enjoy working in a team. We have excellent communication and help each other as much as we can.
What is next in your education?
I plan to learn as much as I can as a Medical Assistant and eventually further my education to become an Ultrasound Technician.