Mary Granados
Mary Granados was born in Texas and raised on a farm in Arkansas. She moved to California when she was 11 years old. Because of family circumstances, she dropped out of high school during her Freshman year. Working hard for many years as a Nanny/Family Assistant to make ends meet, she finally had the opportunity to further her education at the age of 45. She is an excellent example that it is never too late to pursue your dreams! Mary is currently working on her Associates of Science degree in Human Services and a Community Worker Certificate. As part of the Cooperative Education Program at Cañada College, she is currently volunteering at the San Mateo Pride Center where she has received a certificate of appreciation and a certificate of excellence.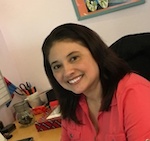 What initially made you decide to take classes at Cañada College?
Working with children and the community for so many years, I knew it was time to work with families on a broader scale. Taking these classes at Cañada College is very rewarding.
What did you enjoy the most about your Cooperative Education Internship?
I love being involved with a place where all folks are welcomed. The employees there are always friendly and willing to help me any way they can no matter how busy they are, and I love the energy there. The clients who spend time there all appear to feel right at home.
How do you feel your Cooperative Education Internship experience is preparing you for a career?
This program helps build my confidence in my abilities. Hands-on experience and applying what is taught in classes helps a great deal by preparing me to hit the ground running when I get hired.
Who inspires you?
My partner Kim inspires me everyday. Her success and outstanding achievements motivates me to want to make a difference and build something great to help others succeed.
What is next for you after you get your Associate's Degree?
Besides continuing my education, my career path is to work for the State of California in a Human Services office working directly with the underserved population.
What advice would you five to students looking into taking a Cooperative Education course at Cañada College?
Treat the internship like a paying job by attending regularly and being on time. Consider the experience as a stepping-stone to their future career.