Lucila Tafolla Delgado
Lucila Tafolla Delgado is a Cañada College alumna and aspiring special education teacher. Lucila's career ambition is to further her studies and receive a Master's Degree in Art Hispanic Studies. At Cañada, Lucila achieved her career goals thanks to the various support resources on campus such as technical assistance, financial aid, and the English as a Second Language Program (ESL). The ESL Program at Cañada prepares immigrant and international students to achieve their academic, vocational, and personal goals. In alignment with the college mission, the ESL program offers classes so that students can develop language and academic skills including analytical, critical, creative thinking, and effective communication.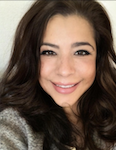 One of the biggest challenges Lucila faced during her academic journey was overcoming the language barrier. Lucila shares, "Learning to speak English as an adult is difficult, but not impossible. The ESL Program helped me a lot!" Lucila felt supported by Cañada since she first began her ESL courses. Lucila notes one of the most helpful buildings on campus is the Learning Center. At the Learning Center, Cañada provides an energetic, competent, and friendly academic environment. The Learning Center support services includes peer and professional tutoring, workshops, and technological support.
Currently, Lucila is in the construction business. Lucila recalls passing by Cañada College as she drove home from work and recognized her dream was to enroll in a great college. At first, Lucila felt, "Scared and too old, but when the classes started I saw everyone's dream was the same as mine. That is when I realized this is the best place to be to make my dreams come true." Lucila attributes her success to her husband Angel, the ESL staff, Professors Jamie Hui, Sarita Santos, and Alicia Aguirre for their immense guidance at Cañada. Lucila also thanks ¡ESO Adelante! Program Service Coordinators Nimsi Garcia and Melissa Maldonado. Lucila advises students with similar goals to herself to, "Always start a project even if it is hard. As immigrants, we need to work tirelessly and remind ourselves that we can do it all."