Elizabeth Birdwell
Every fall, Cañada students put their talent to the test and created films during Campus Movie Fest, the world's largest student film festival for the next generation of filmmakers. The Cañada Campus Movie Fest, hosted by Cañada Student Senate, was a weeklong film competition where more than 200 students created and shared their stories. At the red carpet finale, in 2018 the College selected the films "Heroism" and "PhotoCorpse" as the winners.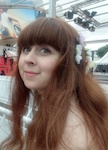 "Heroism", created by Ivy Woolridge and Elizabeth Birdwell, is an inspiring film about love, hope, community and supporting others. Ivy and Elizabeth have traveled the world with their film, including a stop at the Cannes Film Festival in France, and we wanted to check in with them to hear about their success following their win at the Campus Movie Fest.
You entered your film "Heroism" in the Campus Movie Fest here on campus, which eventually got you into the Short Film Corner at Cannes Film Festival. Congratulations on your success! What was the most challenging part of making your film in such a short amount of time?
Thank you! I'd say the most challenging aspect was just the worry of not having time to finish the film, or that something could go wrong, etc. It was the first time I'd entered something like this, so there was a large element of unknown that came with it. I also encountered some challenges with the editing near the end, as I was using Premiere to do some things I wasn't experienced with.
Do you two always collaborate on projects?
Not always, but we have a lot! We've been close friends from a young age, so we work together pretty well and enjoy collaborating on stuff. That being said, of course we each have personal projects as well.
Are you planning on entering the Campus Movie Fest again?
Yes! We have an idea for our next film that we're super excited about!
What was your favorite part about going to the Cannes Film Festival in France?
The friends and connections I made, from both CMF and the festival. I got to meet some different student filmmakers/animators from around the world, which is just really cool! Other than that, my #1 favorite moment was probably when I got to watch the cast of "Solo: A Star Wars Story" walk up the red carpet for the movie premiere. The entire festival was amazing and I can't thank everyone enough who's supported us on our journey.
Have you gone to any other film events?
We also attended Terminus back in June, which is a film and gaming convention related to Campus Movie Fest.
What do you enjoy most about the Digital Art and Animation Program here at Cañada College?
The program has benefited me in multiple ways, in fact I didn't even realize that animation is what I wanted to pursue until I decided to try out one of the classes. I've learned so much material that's helped me improve my work through the program, the instructors are all super fun and awesome people, and I just love the overall atmosphere and being surrounded by other people who love the same stuff I do!
What inspires you?
Animation (obviously) music, artists, movies, places, almost anything sci-fi, people I know, people I don't know, etc…too many things to count.