Efleda Bandeo
Efleda Bandeo was part of the last cohort of Cañada College's Career Advancement Academy (CAA) program for Administrative Medical Assisting. After finishing the CAA program, she continued taking Medical Assisting classes while completing her nursing pre-requisites. Efleda received her Associate in Medical Assisting at Cañada College with honors (Magna Cum Laude) in December 2016, and thereafter obtained her Clinical Medical Assisting certificate from California Certifying Board for Medical Assistants (CCBMA). She was accepted to the San Francisco State University School of Nursing Fall of 2017.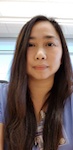 What initially made you decide to take Medical Assisting classes at Cañada College?
While taking my pre-requisites for nursing at Canada College I had an opportunity be part of the Administrative Medical Assisting program offered by the Career Advancement Academy. I want a career in healthcare and figured this was a great way to be exposed to the healthcare field. I knew it would be a challenge taking these classes in addition to my pre requisites for nursing school, but I didn't want to miss this opportunity. Because of the competitiveness of getting into nursing school my plan was to gain experience working in the healthcare industry as a clinical medical assistant while trying to be accepted into nursing school.
Did you explore other Medical Assisting Programs in the area before taking classes at Cañada College?
No, because I got into the CAA program of Cañada College while I was already enrolled in other classes there. I am so thankful for the quality education I received from them in Administrative Medical Assisting.
What did you enjoy the most about the Medical Assisting Program at Cañada College?
I enjoyed the quality of education given by my Clinical instructors. Based on my experience, I can say without a doubt that the teachings and training given by my Clinical instructors and TA for laboratory classes was top notch. I was also glad that it was a small cohort which contributed to the quality of education. Noteworthy to mention is the laboratory supplies for skills were provided by the school. The only equipment the students were responsible to provide for themselves were the stethoscope and a blood pressure cuff.

How do you feel your courses in the Medical Assisting program prepared you for your career?
The Medical Assisting Program at Canada College helped boost my confidence knowing I had already been exposed to the healthcare field before getting into nursing and confirmed that this was a career that I want to do. I am sure that my Medical Assisting education helped my chances in getting into nursing school.

What advice would you give to students currently in the Medical Assisting program at Cañada College?
This Medical Assisting class is a quality program. It is up to you to get the most out of it. Take advantage of the laboratory facility and practice, practice, practice to build confidence in giving patient care. The people at your clinical site will be more open to giving you tasks to improve your skills when they see you are knowledgeable and confident. Always volunteer if asked to learn or perform a task and always ask questions. It is also very important when giving patient care to always ask for help and verify if you are not sure.
What is next in your career?
My plan is to be an RN, after gaining some experience I would like to continue my education to get a Master's in Nursing Informatics, and maybe become a Nurse Practitioner.