Eli Angote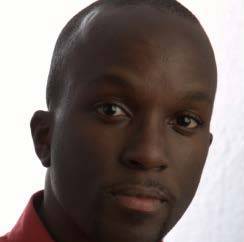 Eli is the founder of TheBestNotary (www.thebestnotary.net) and a graduate from Cañada College's Paralegal Program. A native Kenyan, he moved to the US in 2000 and California in 2004. He finished his first full marathon in 2016. After a career in corporate sales, he founded TheBestNotary which helps companies of all sizes increase their profits by dramatically reducing the time it takes to schedule mobile notary appointments and secure Apostilles in all 50 states. Eli holds a Bachelor's degree in Spanish from San Francisco State University and an Associate's Degree in Paralegal Studies from Cañada College.
What initially made you decide to take Paralegal classes at Cañada College?
I was interested in exploring a career in the legal field at the time, and I figured a paralegal education was a great way to learn about the industry and to see if it would be a good fit for me.
Did you explore other Paralegal Programs in the area before taking classes at Cañada College?
I checked out other colleges, but picked Cañada College because of the convenient location, and because of the great reviews of the program I had received from a few personal contacts.
What did you enjoy the most about the Paralegal Program at Cañada College?
For me it was the instructors. I really had some great teachers at Cañada. Dario DeGhetaldi taught a legal system foundation class, and it was profoundly stimulating. He made the class super interesting by engaging us using real life examples from his career and memorable stories going back to the medieval days. I took Althea Kippes' legal research and writing class, and she made class interesting by giving us chances to participate in various legal conferences including one where I had the chance to meet the real Erin Brockovich!
How do you feel your courses in the Paralegal Program prepared you for your career?
Yes, specifically LEGL 250: Legal Research and Writing. The legal research and writing skills I gained from the course allowed me to draft quite a few of my independent contractor agreements as well as various agreements with clients.
What advice would you give to students currently interested in the Paralegal Program at Cañada College?
I would advise them to build strong relationships with their instructors and each other because that is the key to discovering additional opportunities beyond what is made available to the public.
What advice would you give to students currently interested in a career in the legal field?
Try before you buy. By taking various classes and volunteering in the field, you can get a taste for what you like and don't like. Spending time volunteering at various non-profit legal organizations allowed me to experience various types of law and meet numerous attorneys whom I learned from.
What advice would you give to students who want to start their own business like you did?
I would first advise them to identify and then seek out the people who will help them get there. The book "Never Eat Alone" by Keith Ferrazzi is an excellent manual for skillfully building the right relationships that will end up creating opportunities and sidestepping roadblocks. I would also recommend developing good habits to help maintain high standards of physical and mental health which is part of a strategy I have come to call "Protecting the asset" after reading the incredible book "Essentialism" by Greg McKeown. By being at your best you can be in a great position to serve others and truly add value instead of constantly struggling to keep up.
What do you love the most about working in your industry?
I enjoy constantly having to explore my comfort zone. I went from a self-employed notary to employing six in-house staff members and contracting with thousands of notaries around the country. Each stage of growth brought with it considerable challenges and a sea of uncertainty and doubt. I have had to reinvent myself several times and feel that being an entrepreneur is really becoming a flexible and skilled problem solver who can stay on task even in the toughest of conditions. Thanks to being a voracious reader and an inveterate networker, I have been able to leverage the wisdom and generosity of others into a disruptive business opportunity while having tons of fun along the way!
What is next in your career?
Thankfully my business has gotten to the point where it's ready for scale. I am working on fund-raising and hiring the key employees who will spearhead wider expansion. I'm also working on my presentation skills to help educate the business community about the benefits of outsourcing notarization and creating a speaking real for my speaking career to inspire others to find their own voices and maybe even turn their ideas into entrepreneurial ventures.