Alma Angel
Alma Angel grew up and attended local schools in Redwood City. She is a first generation Mexican-American, and the first in her family to go to college and earn a Bachelor's degree. In 2008 she started her college education where she took business, studio, and field production courses. In 2012, Alma received her AA in Business Administration and transferred to California State University, Northridge; majoring in Finance and graduating spring of 2014. After graduation, she started a full-time job where she learned what skills she needed to improve on, so she decided to return to Cañada College and obtain an AS in Accounting. She is currently working on applying to Business School's and earn an MBA with a concentration in Marketing.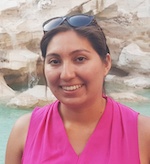 What initially made you decide to take Business classes at Cañada College?
I started taking business courses at Cañada College because they worked better with my schedule and it was a closer commute than CSM, I also wasn't sure what I wanted to major in, but I knew I was good at math and didn't want to pursue architecture. Production companies are businesses and I figured majoring in business would allow me to work for one.
What did/do you enjoy the most about the courses you took at Cañada College?
I liked how the professors went through the material; most of the professors I had at Cañada College made the concepts easy to understand and would take the time to cover the material in detail.

How do you feel your courses prepared you for your career?
Some of the courses had group assignments, and working with a team is something you have to do at a university and at work. You can't escape group work, and the projects helped prepare me for the group projects I have at work. They taught me to stay in contact with my group throughout the project, how to best divide the work, and keep everyone accountable for their part.
How do you feel your courses prepared you for transferring to a 4-year program?
The courses gave me a good foundation on the concepts needed for my upper division courses I took at my university. They also helped me decide what I wanted to major in within business.
What inspires you?
What inspires me is being a role model for my younger cousins, and hopefully young Hispanic girls that are aspiring to continue their education in whatever discipline they choose. I was the first in my family to go to college, so I was the guinea pig. I've learned how the application process works and hope to help the younger generations when they start to going through it.
Who are some of your heroes?
My heroes are my parents, they may not have known much about what I needed to do to go to college but they didn't discourage me from going. They also trusted me to find out what it is that I needed and they helped me with what they could. If it weren't for them, I may not have completed my undergraduate studies.
What is next in your education?
Next I hope to get accepted to a business school and work towards an MBA with a concentration in Marketing. I hope to be able to help new businesses with their marketing plans and brand management.