Funeral Service Education


Overview
Funeral Service Education is for the person who seeks a Career in the care and preparation of human remains as well as an understanding of the ceremonies and funeral rites practiced by a variety of cultures. Students will also be exposed to counseling at the time of death and in the post services phase. Our program will educate students in every aspect of funeral service including history, philosophy, chemistry, accounting and more.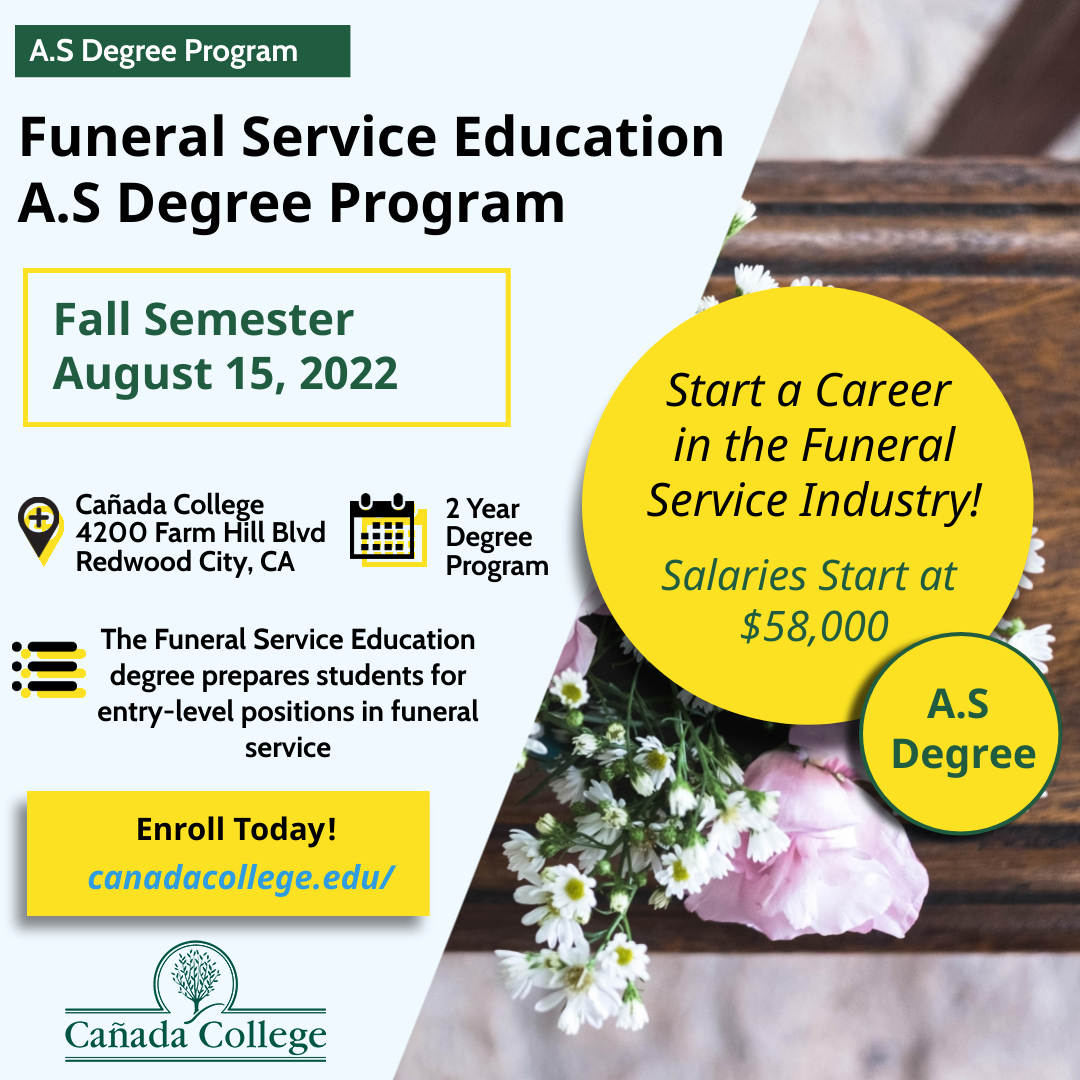 What
The Funeral Service Education degree prepares students for entry-level positions in funeral service. The student is exposed to theory-based and clinical experiences reflective of the current industry standards. It is designed to meet the prerequisites for licensure and employment in the field of funeral service as funeral directors or embalmers.
---

Who
Funeral Service is for the person who seeks a dynamic rewarding career in human services. This career path is ideal for the empathetic individuals who seek rewards in service and have an interest in science. Course work covers a variety of subjects including Law, Public Health and Technical Sciences, Social Sciences and Business/Management.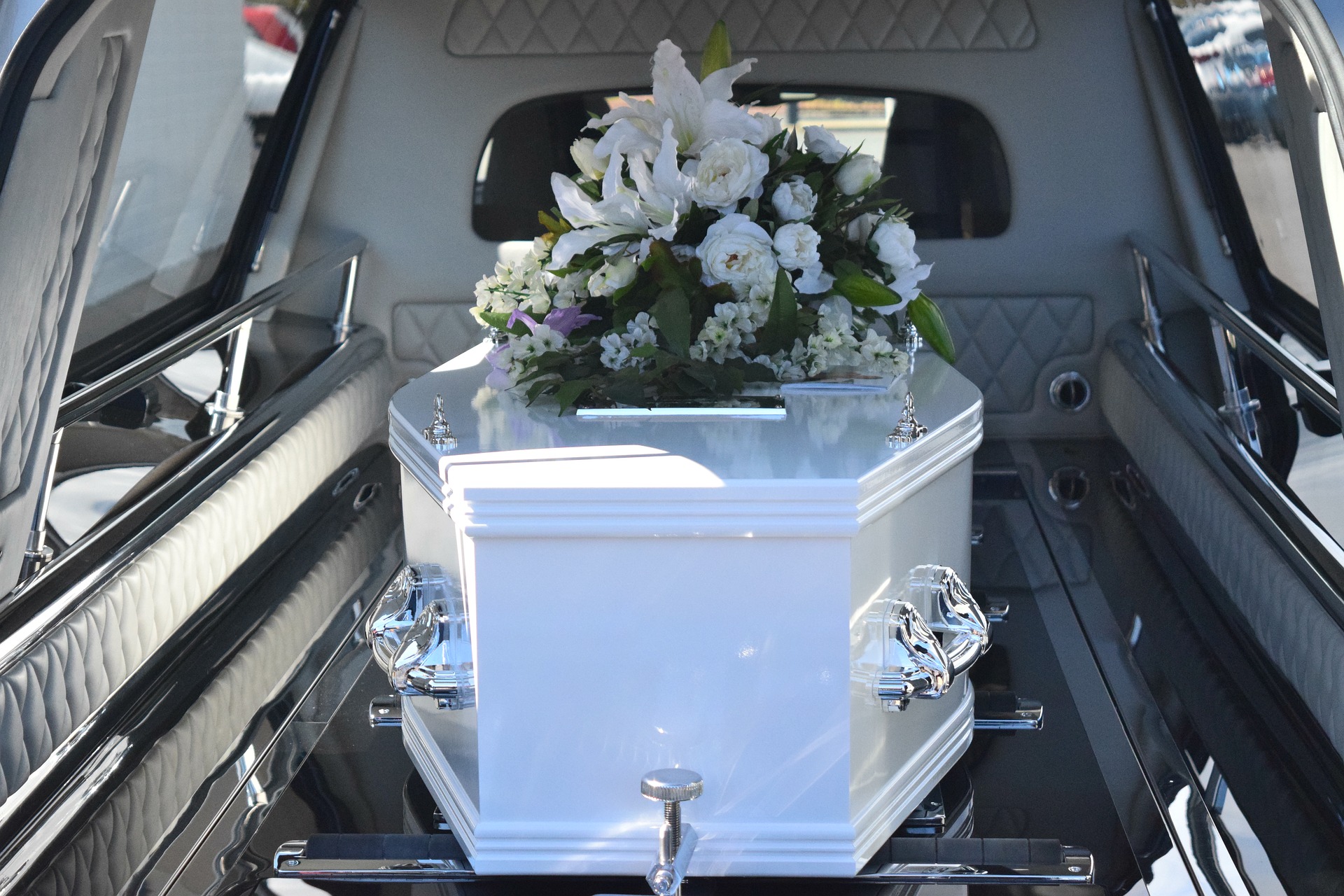 For more information, please call the Science and Technology Division office at (650) 306-3291.
Career Opportunities

2019 U.S. Bureau of Labor Statistics

Funeral Workers
$58,310/annual
$28.04/hour
Embalmer
$ 50,100/annual
$24.09/hour

Student Learning Outcomes
Explain the importance of funeral service professionals in developing relationships with the families and communities they serve
Identify standards of ethical conduct in funeral service practice.
Interpret how federal, state, and local laws apply to funeral service in order to ensure compliance.
Apply principles of public health and safety in the handling and preparation of human remains.
Demonstrate technical skills in embalming and restorative art that are necessary for the preparation and handling of human remains.
Demonstrate skills required for conducting arrangement conferences, visitations, services, and ceremonies.
Describe the requirements and procedures for burial, cremation, and other accepted forms of final disposition of human remains.
Describe methods to address the grief-related needs of the bereaved.
Explain management skills associated with operating a funeral establishment.
Demonstrate verbal and written communication skills and research skills needed for funeral service practice.
Coursework


Science
Embalming
Human Anatomy
Microbiology
Chemistry
Pathology
Restorative Art


Business Management and Professional
Funeral Directing
Accounting
Funeral Service Management
Funeral Service Merchandising
Cremation
Small Business Management
Communications


Social Science/Humanities
Sociology
Funeral Service History
Funeral Service Psychology and Counseling


Legal, Ethical and Regulatory
Funeral Service Law
Business Law
Ethics

---
The Funeral Service Education program at Cañada College is NOT CURRENTLY accredited but will be seeking accreditation by the American Board of Funeral Service Education (ABFSE), 992 Mantua Pike, Suite 108, Woodbury Heights, NJ 08097 (816) 233-3747. Web: http://www.abfse.org/