Student Body Card
Pick up Your Cañada College Student Body Card!
Make the most of your Cañada College experience by paying your $8.00 Student Body Fee and receive your official Cañada College School ID.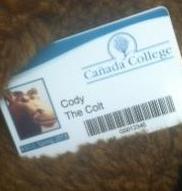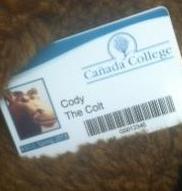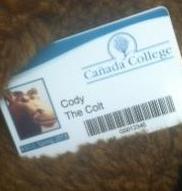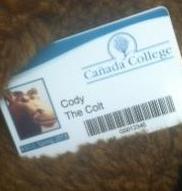 Student Body Card FAQs (Frequently Asked Questions)
How do I get a Student Body Card?
1.) Go to the Center for Student Life and Leadership Development, Building 5, Room 354
2.) Bring proof that you have a zero balance from Websmart
3.) Get your picture taken
4.) The Center will print Student Body Cards right there in a few minutes
What is the benefit of having the Student Body Card?
Over 600+ Student Discounts World-Wide!
2.) Free entrance into all ASCC Campus-Wide Events
3.) Free printing, scanning, and faxing in The Center for Student Life and Leadership Development
4.) Free entrance into Cañada sporting events
5.) Free usage of the Student Life Game Room
What are the hours to get a Student Body Card?
Visit our Hours Site HERE
How Long do School Body Cards last?
School IDs expire at the end of each semester.
After you receive your Student Body Card, a sticker will be added each semester you wish to validate it.
Where can I get a Student Body Card?
The Center for Student Life and Leadership Development, Building 5, Room 354
What Happens if my card is lost of stolen?
If your card is lost or stolen, you can go to the Cashier's Office and let the staff know. They will charge your account $8, and you can come to Building 5, Room 354 for another card.
What if I am in RadTech or I'm in the Medical Assistant Program?
The RadTech Program and Medical Assistant Program does not pay for your special Hospital Identification Card. Upon arrival to the Center for Student Life and Leadership Development, please let the Student Life staff know the program you are enrolled in. A Student Body Card sticker will be added to the back of your special badge.
What if I don't want a Student ID?
You can request to waive the right to your Student ID using the Student Body Reimbursement Form
Check out the Student Discounts you receive below!
Want a full list of all the Student Discounts you can get nationally? Visit Coupofy!


$12.99 Online CPR Course with promo code SAVEALIFE

10% on orders over $99.99 with Code SPECIALDAY

15% off any item found on the website with code BB987Z

$24.95 admission

Monday through Thursday tickets cost $9.50

$11.95 admission
$25 start off fee. Monthly fee $50.
15% off any item on the website. Promo-Code: A943CD
10% off any item on the website. Promo-Code: NVX1WH5JSHV1
$19 admission
10% off any purchase
10% off entire purchase after enrollment.
JustRentToOwn.com

Rent to Own homes are residential properties for rent; purchase is an available option, but is not required. A major benefit of these lease agreements is that they are very customizable depending on what is most convenient for the intended renter.

We want to offer you exclusive full-access membership completely free of charge. Simply go to JustRentToOwn.com click on the log-in tab, and enter

Username: campusfreeaccess@justrenttoown.com
Password: 2135681540

$20 off on any binocular or trinocular microscope over $200
2 for 1 special; 1 large pizza and get the second one free.
15% off any product under $200 that does not have a reduced price with discount code mtpE57SP

Monthly due $53 a month compared to $70
10% off any purchase

Discount on a purchase or lease of a new car from

Putnam

Buick GMC and

Putnam

Chevrolet Cadillac.

25% off any body work
10% off excluding special offers.
Buy 1 ticket get 1 free (good Sat 8pm to 10pm and Sun 1:30 pm to 4pm

$12.50 admission

$5 admission
$3.00 Admission.

$11 admission

ShinDigz

Discount: 10% off your purchase.
Code: FS673Q

A free fountain soda or regular chips w/a purchase of any sandwich.
20% off new patient specials
Trillium Wellness Clinic
25% off weight loss program

10% Discount

10% discount on any purchase except gift cards
Student Representation Fee
The Student Representation Fee of $1.00 per semester will provide support for students or representatives who state positions and viewpoints before the city, county, and district governments, and before offices and agencies of the state and federal government. A student may, for religious, political, financial, or moral reasons, decline to pay the $1.00 fee.