Internships/Jobs
Start Your Internship Search Here!

Remember that it can take 3-6 months to get placed at an internship or land your first job.

The key to navigating your internship and job search process is by starting early! The fall semester is peak hiring season for many companies.

Use the guide below to get an idea of when to start your job search. However, keep in mind that new opportunities are posted every day, so it's never a bad time to start!


Here is a timeline for all things related to internships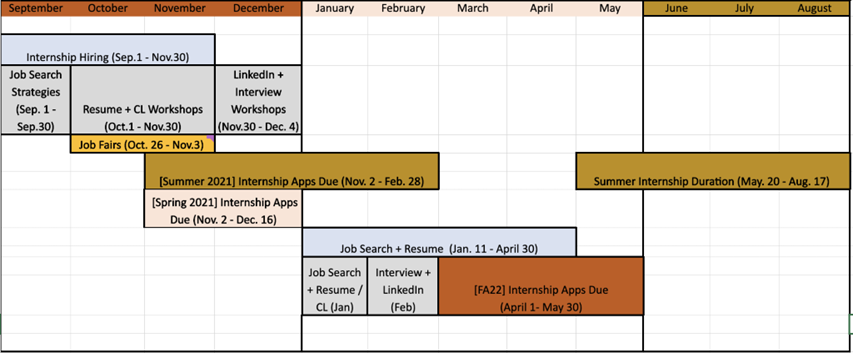 Get searching by visiting our spreadsheet which lists: internships, fellowships, and jobs.
The list is separated by different internships/jobs tabs at the bottom of the spreadsheet. Please be aware of all the necessary deadlines.
Internship Information Session recordings
1) Applying for STEM Internships opportunities Google Slides From The Video
2) STEM Internship Info Session on December 4, 2020 Google Slides From The Video

3) Resume Workshop on December 11, 2020 Google Slides From The Video
4) Build your LinkedIN Profile Google Slides From The Video
$$$$$$$$$$$$$$$$$$$$$$$$$$$$$$$$$$$$$$$$$$$$$$$$$$$$$$$$$$$$
STEM Center Job Opportunities
Want to work for the STEM Center as a Tutor, Student Assistant or Peer Mentor?
View STEM Center Tutor Job Description
View EPIC Leader Job Description
Click here for STEM Center Tutoring and EPIC Leader Job Application
* Tutors require a faculty reference emailed to Josue – alcarazj@smccd.edu
=====================================
Virtual STEM Job Shadowing Experience
Si

gn up for a PAID Virtual STEM Job Shadowing Experience this upcoming Spring Break 2021 term!

Cañada College STEM center will be hosting a job shadow program for minority students that are underrepresented in STEM professions. This is a paid opportunity to explore STEM careers through professional coaching and visiting STEM professionals at their work sites.

Job Shadowing Dates (during spring break): March 26 – April 1, 2021.

Application Deadline – February 19, 2021.
If you have questions, contact Sharon Quach -
quachs@smccd.edu