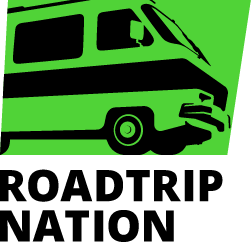 Cañada College and Road Trip Nation are excited to embark on a journey with you that will help you them learn more about yourselves and your opportunities for the future. You may now access Roadtrip Nation's vast Interview Archive, filled with stories from Leaders from varying fields, careers, and backgrounds.
Roadtrip Nation started when founders, Nathan, Mike, and Brian weren't sure what to do with their lives, so they went on a Roadtrip to learn the stories of Leaders who built lives around their passions. The conversations generated such powerful insights that the original roadtrippers decided to start Roadtrip Nation as a platform to share the stories of people who have defined their own roads.
Discover how the things you like can connect you to a rewarding career you'll love. Drawing from Roadtrip Nation's library of thousands of candid video interviews with professionals from all walks of life, Roadmap to Careers showcases real stories of the struggles and successes you might encounter on your road to a fulfilling career - and equips you with the tools you'll need to take your first steps to build a livelihood that's true to who you are.
To get started discovering all Road Trip Nation has to offer, follow the instructions below to create your account!
If you are a current Cañada student, please contact Bob Haick, haickr@smccd.edu for the MEMBERSHIP CODE.
Click the following link https://roadtripnation.com/edu/canada, once on Cañada's Road Trip Nation landing page you can either click "Sign In" or simply click "Start Exploring". Please make sure that you are on Cañada's landing page and not on roadtripnation.com or roadtripnation.org, or your membership code will NOT be recognized on these sites.
After clicking "Start Exploring", you will be directed to an account creation page where you will need to fill out all the required fields.
Please create a username which has 6-15 characters, with the exception of special characters; i.e. "firstnamelastname".
For the password, you can choose your own with at least 8 characters, at least one lowercase letter, at least one uppercase letter, one number, and one special character.
For the email address, we highly recommend you use your my.smccd.edu email address.
After you create an account, you will be taken directly to a page to fill out your membership status. This is the page where you will input your membership code in order to gain full access to our career exploration tools and leader videos.
Please ensure you click "Go!" so the membership code is processed to your account.
For those of you that may already have an account and log in, you may go to "Account Settings" in the top right corner, click "Membership", and add the according membership code.