Overview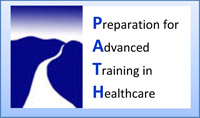 Interested in a career in the allied healthcare field?
Having trouble getting the classes you need?
Guaranteed Registration!!
Enroll Now! Classes Begin January 14, 2013
A quality education at $46 per unit!
Do you need to fulfill the prerequisites for training in nursing, radiologic technology, pharmacy, respiratory therapy, BSN/ASN or other allied health training programs? Canada's Preparation for Advanced Training in Healthcare program (PATH) allows you to:
Join a learning community filled with students with similar educational goals and motivations.
Enjoy guaranteed registration for the allied health prerequisite classes in the PATH curriculum.
Benefit from a fully integrated curriculum designed to benefit students moving toward a career in the allied health fields. (See Curriculum Plan.)
Complete the major science requirements for application to allied health programs in less than 18 months!
We are accepting students for two cohorts of 30 students each for Spring 2013. See our Spring Schedule
Cohort #1 – for students who have completed CHEM 410.
Cohort #2 – for students who have not yet completed CHEM 410
*******
TO APPLY: You must be eligible to enroll in English 100 Eligibility to enroll in Math 200 is highly recommended.
►STEP 1 - Carefully read and complete each step of the P A T H Application form.
►STEP 2 - Save the application to your desktop and email it with all required transcripts and attachments to: canadapath@smccd.edu or print and fax to (650) 306-3457
►STEP 3 - Attend a mandatory P A T H Orientation.
*******
Have questions? Email canadapath@smccd.edu or call (650) 306-3304.